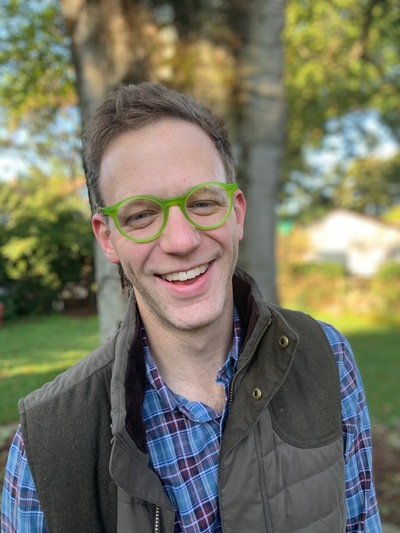 Jacob Risinger
Associate Professor and Director of Graduate Studies
He/him/his
561 Denney Hall
164 Annie & John Glenn Avenue, Columbus, OH 43210
Areas of Expertise
Romanticism
Eighteenth-century literature and philosophy
Transatlantic studies
Poetry and poetics
Literature and philosophy
Education
PhD, Harvard University, 2014
MSt, Oxford University, 2007
BA, Middlebury College, 2006
Jake Risinger writes and teaches about transatlantic Romanticism and the literature and philosophy of the long eighteenth century.
His book, Stoic Romanticism and the Ethics of Emotion, was published by Princeton University Press in 2021. Taking up a range of writers from Wollstonecraft and Wordsworth to Byron, Mary Shelley and Emerson, Stoic Romanticism illustrates how the austerity of an ancient philosophy, a central preoccupation in a world destabilized by the French Revolution, was not inimical to Romantic creativity, but vital to its realization. 
He is currently at work on a book about the unruly development of "power" as an aesthetic concept throughout the Industrial Revolution. Other current preoccupations include a critical reappraisal of literary influence, one attentive to the ethical underpinnings that cling to the concept of influence across the disciplines, as well as an interest in mapping out an "untimely" literary history of Romanticism's expansive American afterlife. Risinger is Associate Editor of The Wordsworth Circle and he co-edits the Nineteenth Century Networks section of Literature Compass. Recent and future courses include "Before Night Falls: British Poetry, 1750-1900," "Ecopoetics: From the Enlightenment to the End of Nature," "Lord Byron and his Circle," and a grad seminar on "Romanticism and Critique."
A former Javits Fellow, his dissertation won the Howard Mumford Jones Prize at Harvard University in 2014.  At Ohio State, he was a Global Arts and Humanities Faculty Fellow in 2021 and in 2022 he received the Alumni Award for Distinguished Teaching, the university's highest honor for teaching.
Selected Publications
Four entries in The Cambridge Guide to the Eighteenth-Century Novel, 1660-1820, ed. April London (forthcoming)
"Wordsworth's Water Power," The Wordsworth Circle (Spring 2019)
"Wordsworth and Godwin in 'Frozen Regions.'" ELH 83.4 (December 2016).
"Coleridge, Politics, and the Theory of Life." SEL: Studies in English Literature, 1500-1900 (Summer 2015).
"The Excursion as Dialogic Poem." The Oxford Handbook of William Wordsworth, ed. Richard Gravil and Daniel Robinson (Oxford University Press, 2015).
"Transatlantic Fate: Emerson, Cavell, and Beautiful Necessity." European Romantic Review 25.3 (Summer 2014).
Curriculum Vitae
People Filters: