Advanced
Text
Job Placement Information
At Ohio State's Department of English, we feel that it is important to let prospective and current graduate students know as much as possible about the career outcomes of our alums. The following information provides detailed information about the jobs our English PhD alums currently occupy and our overall job-placement statistics.
Text
English PhD Job Placements Since 2001
Media

Text
Image Description: This table provides comprehensive numbers of the types of jobs English PhDs occupy.  Of the 293 PhDs who received their degrees since 2001, 170 (or 58%) entered tenure-track professor positions.  Four have postdocs; seven are in non-tenure track-teaching positions; 35 are in annual non-tenure-track jobs; 29 are in academic administration; 60 have jobs outside of academia; and six have either retired or died. 
Text
A more complete, year-by-year accounting of our placements is below, in the accordion labeled "Comprehensive data."
Text
---
The Tenure Track and Beyond
We supply this data focusing on tracking tenure-track placements for a few reasons: historically, the majority of our PhDs have gained t-t positions; data about t-t placements is a commonly used metric among programs nationally, so this information helps students who are comparing departments; though career objectives among applicants to our PhD programs are changing, it is still the case that many students apply to our program in English with some interest in entering the professoriate.
Our focus on this metric should not be seen as conveying a sense that these positions are more valuable than the many other types of occupations our PhDs pursue.
A significant number of our alums choose to stay in academia. Out of the 152 students who have earned English PhDs over the past 10 years, 33 (22%) hold non-tenure-track positions.  Of these 33 positions, four are post-docs; four are permanent non-t-t faculty jobs; and 25 are annual teaching positions.  Our PhDs have been successful in gaining administrative positions in academia.  Over the past decade, 19 (13%) of our alums have accepted offers in advising, communication, management and curriculum development roles in universities.
About 20% of our students have careers outside academia. They teach in independent high schools; work as communications specialists in corporations; help manage nonprofits; and hold positions in banking, software, publishing, and other industries.
According to Federal Reserve data surveying PhDs in all fields, almost all holders of doctorates gain employment: the unemployment rate among PhDs hovers between 1% and 3%.  Our data suggest the same is true for graduates of our program, with very few remaining unemployed.
Text
---
English PhD Placement: Trends
While our overall rate is 58%, in recent years, the proportion of our PhDs entering the tenure track has been lower:
Media
Text
Image Description: The graph shows the percentage of Ohio State English PhDs who entered tenure-track professorial jobs for each year from 2001 to 2022.
The percentages are as follows: 86% (2001); 60% (2002); 91% (2003); 82% (2004); 50% (2005); 73% (2006); 72% (2007); 100% (2008); 64% (2009); 83% (2010); 53% (2011); 65% (2012); 69% (2013); 86% (2014); 43% (2015); 55% (2016); 70% (2017); 35% (2018); 27% (2019) 42% (2020); 24% (2021); 22% (2022)
Text
---
PhD Placement: Writing, Rhetoric, and Literacy
Even though we have seen a steep, overall decline in t-t placements, it is important to recognize that this decline has been driven almost exclusively in the reduction of literature and folklore PhDs receiving tenure-track offers.  A high percentage of our PhDs in our Writing, Rhetoric, and Literacy program gain t-t faculty positions each year – a percentage that has not changed, even as the market for PhDs in literary and cultural studies has shrunk considerably.  As the following chart shows, since 2018, while 17% of literature PhDs have entered tenure-track positions, 77% of WRL PhDs have done so – and the rate of t-t placements among WRL PhDs has remained steady for the past two decades:
Media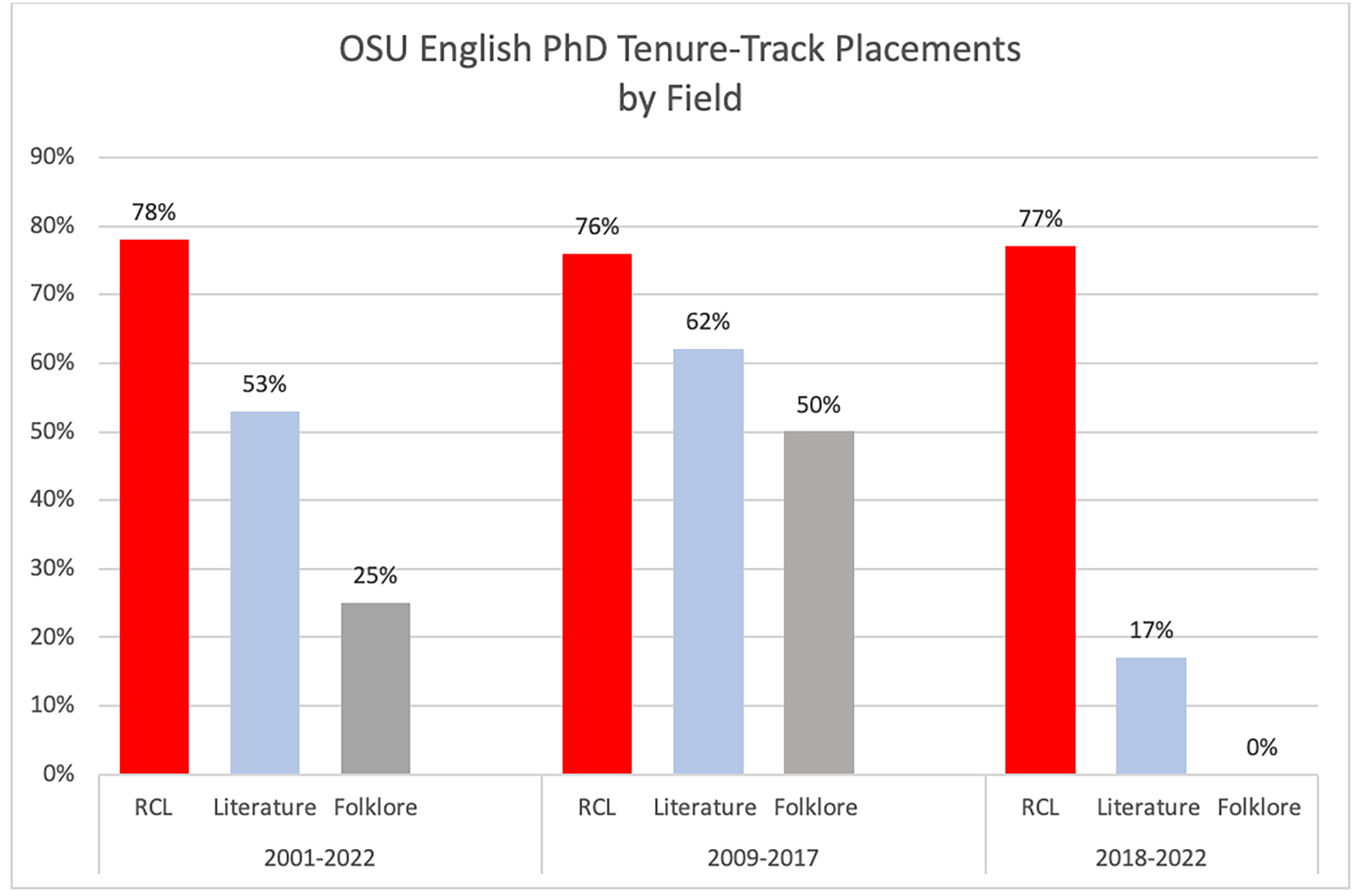 Text
Image Description: This graph shows the differences in tenure-track placements for English PhDs who have specialized in three fields: WRL, Literature, and Folklore.  It shows these differences in three time periods:
From 2001 to 2022, 78% of English PhDs specializing in WRL gained tenure-track jobs.  The percentage for those specializing in Literature PhDs was 53% and for Folklore, 25%
From 2009 to 2017, 76% of WRL PhDs gained tenure track jobs.  For those specializing in Literature, the percentage was 62% and for Folklore, 50%.
From 2018 to 2022, 77% 76% of WRL PhDs gained tenure track jobs.  For those specializing in Literature, the percentage was 17% and for Folklore, 0%.
Text
---
Comparative Data
A comparison between our PhD placement rates and those of other large public institutions indicates that our outcomes over the past few years are in line with national trends. 
Media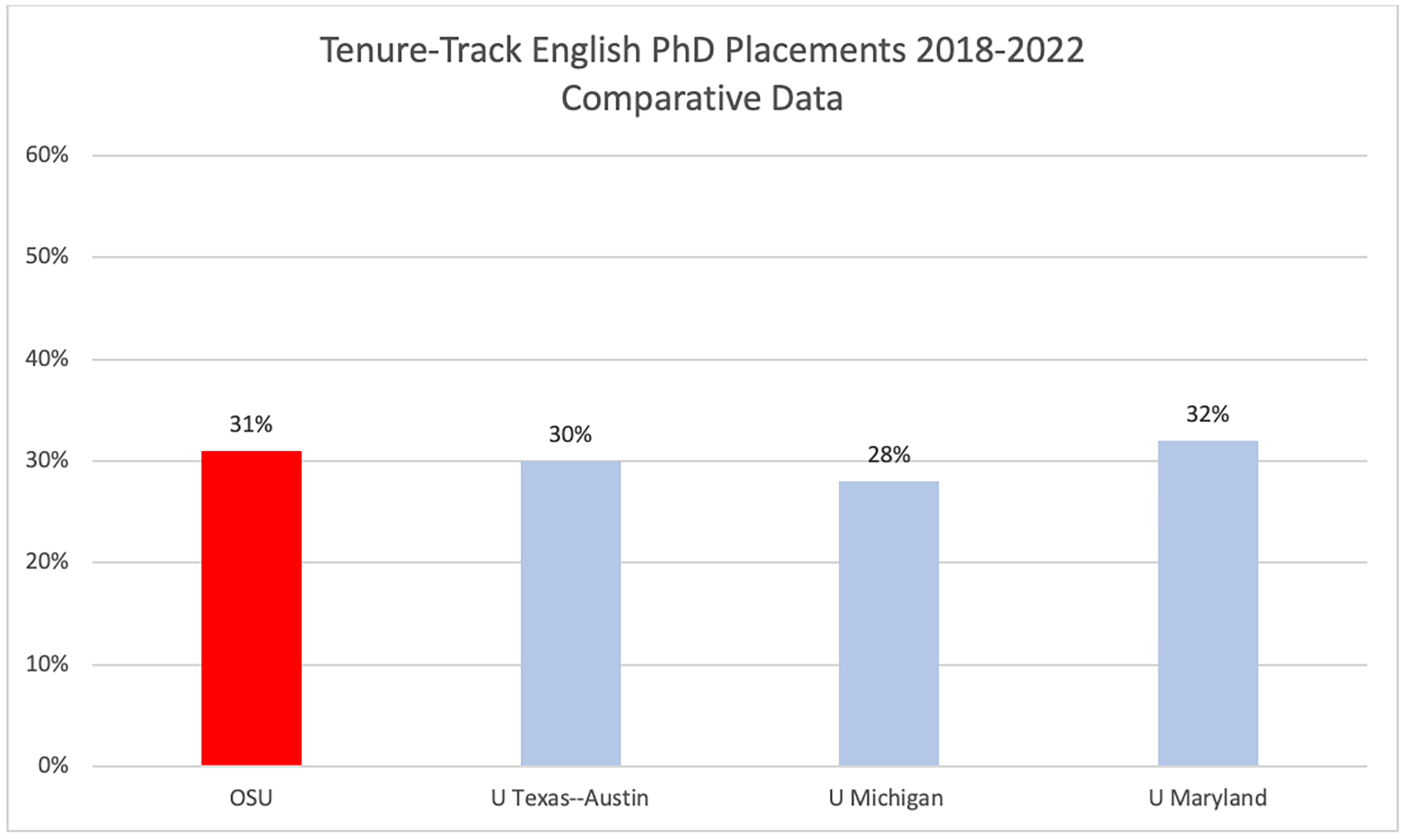 Text
Image Description: This graph compares tenure-track job placements for English PhDs granted between 2018 and 2022 among 4 institutions.
At Ohio State, our percentage of PhDs with tenure-track placement in these 5 years was 31%; at University of Texas-Austin, it was 30%; at University of Michigan, it was 28%; at University of Maryland, it was 32%.
Sources: U Texas, U Michigan, U Maryland
Media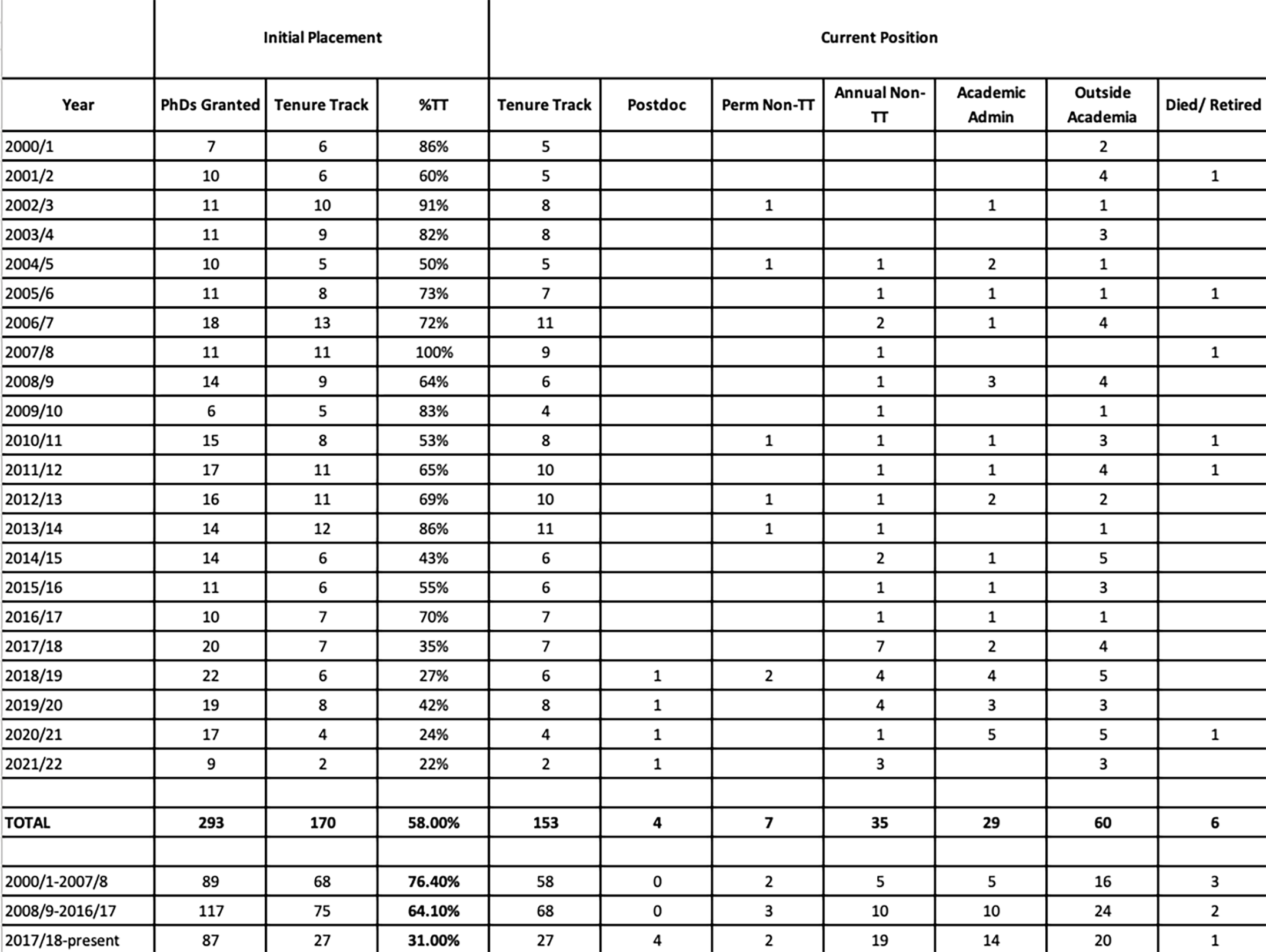 Text
*For an accessible version of this chart, please download the Excel file below:
Text
Notes:
Overall, our tenure-track placement rate for PhD's from 2000/1 to 2021/22 is 58.0%.  Subdivided down into individual fields, WRL is 79.7% (55 of 69); Literature is 53.4% (111 of 208); and Folklore is 25.0% (4 of 16).
For 2000/1 to 2007/8, our overall rate is 76.4% (68 of 89), and in individual fields: WRL, 86.4% (19 of 22); Literature, 75.0% (48 of 64); Folklore, 33.3% (1 of 3).
From 2008/9 to 2016/17, our overall rate is 64.1% (75 of 117), and in individual fields: WRL, 76.0% (19 of 25) ; Literature, 61.6% (53 of 86); Folklore, 50.0% (3 of 6).
For 2017/18 to 2021/22, our overall rate is 31.0% (27 of 87), and in individual fields: WRL, 77.3% (17 of 22) ; Literature, 17.2% (10 of 58); Folklore, 0.0% (0 of 7).
Accordion Header

Career Development Resources