October 24, 2023
Student Spotlight: Celeste Alva Jimenez brings literature to life through her artistic passions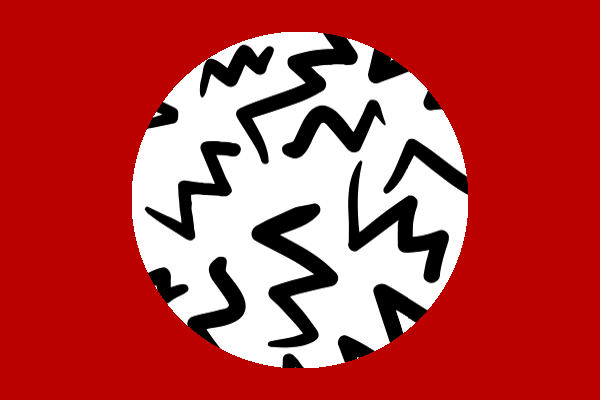 As she sat attentively in the middle of Professor Christopher Jones's classroom, Celeste Alva Jimenez was ignited by their discussion of Edmund Spenser's The Faerie Queen, specifically the character Archimago, the poem's sorcerer turned arch-nemesis. Through this character, Jimenez found parallels with her Aztec and Maya ancestors. From her perspective, "Archimago represents the frequent rejection of non-Eurocentric beauty features and deprecated peoples." Upon returning from class, Jimenez began brainstorming art forms that could capture her interpretation and bring it to life.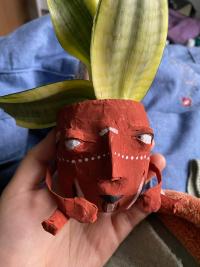 In spring 2023, Jimenez recognized how much paper waste was generated on campus, and she was drawn to create art from pots and non-recyclable materials that would otherwise be disposed of. With an idea and a medium, Jimenez set out to create Archimagos with a prominent nose as homage to her own features. She says, "[this] is a feature that I think deserves more love, and it is a physical characteristic from my ancestry that I inherited and find beautiful." 
These pieces of art, coupled with poetry and other artistic pieces, soon became Jimenez's ticket into the "Night at the Museum," an event hosted by the Ohio Union Activities Board (OUAB) this past April. After stumbling across the event on OUAB's social media, Jimenez eagerly applied to be a vendor, performer and artist. When accepted for all three roles, she took on the challenge of balancing her coursework, extracurriculars and preparation. Jimenez worked tirelessly to continue creating art in conjunction with her assignments "since it has become such an integral part of [her] identity."  
And all her hard work paid off. "I felt like I was in an environment of like-minded individuals: people who adore art and wish to revel in it," Jimenez said. During the event, she was able to sell several pieces and take photos with attendees who found interest in her work. Reflecting on the event, she shared "It's so fulfilling to know that people admire your artwork and see value in it."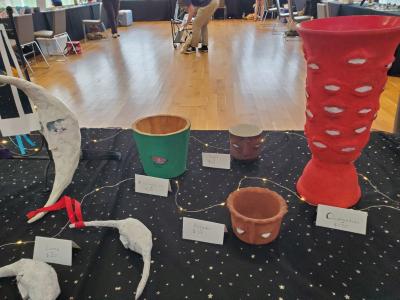 In addition to OUAB's Night at the Museum, Jimenez took the opportunity to showcase her art at the OUAB Ball in Spring 2023 and at Parade the Circle, a cultural event hosted by The Cleveland Museum of Art. At all three engagements, she chose to wear a handmade sculpted moon head piece as an expression of her interest in creating art in different ways and forms.  
Jimenez says "my artwork decorates my dorm, serving as a reminder to seek out my passions and to listen to my creative intuition." She has used her inspiration to create art through various forms from a young age. These art forms include writing and illustrating children's books addressing acceptance of rejection and writing songs inspired by the literature she consumed. Despite this consistent passion for writing and creation, she chose to pursue another interest upon entering her first year at The Ohio State University: psychology. After hearing the compelling tales taught by Senior Lecturer Cathy Ryan in her  graphic novels and storytelling class, however, her heart led her to take on English as a second major.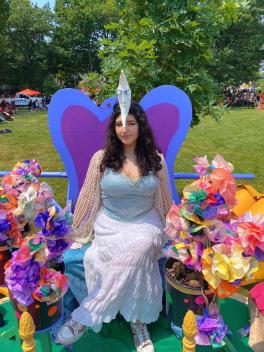 While navigating her creative writing concentration, Jimenez is able to tap into her psychology knowledge and her imagination to craft well-developed and multifaceted characters. Extending her knowledge in both departments, Jimenez hopes to explore how writing can be used as a form of therapy in her future career. With experience as the former president of two writing clubs and a lifelong writer, Jimenez understands how cathartic writing can be. In her ongoing studies, each piece of writing she creates and each piece of literature she reads sparks motivation and inspiration for her academics, career, artwork and life. Through the addition of her English major, Jimenez feels her child-self's dreams coming true.  
Outside of her English and psychology majors, Jimenez is involved in MUNDO (Multicultural Understanding Through Nontraditional Discovery Opportunities).  
News Filters:
---