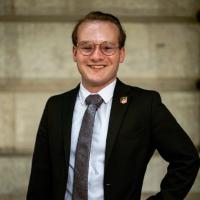 Balancing two majors, a minor and a job as an assistant to the Office of the President at The Ohio State University is all in a day's work for fourth-year English major, Manny Heilman.
Heilman started at Ohio State as a Political Science major and hoped to have a career working in education policy. Even though he loved reading and writing in high school, he thought of them more as hobbies rather than a future career path. During his sophomore year, he took English 2261, "Introduction to Fiction," taught by Senior Lecturer Matthew Cariello. "I was a poor student," Heilman recalls. "My grade in class was fine, but I had no passion for this random GE."  
During a class session, Cariello read aloud one of his short stories, "In the Clutch." Heilman was deeply inspired by his writing. "I loved it. I wanted to write like that, and Cariello gave me the opportunity." Heilman felt that Cariello reignited his passion for English. "He was so eager to convey the characters of the narratives we read...he embodied someone that enjoyed teaching English."
One day after class, Cariello spoke with a few students and gave them an "explore the minor" sheet; Heilman was one of those students. This cemented his interest in the English major. "I imagine most of those sheets found their way to dorm room trash bins, but not mine. Mine was taped to the wall." Heilman began to seriously consider his writing. For his final project, he expanded on a previous story he had written for the class. He ended up writing a full-length play, 46 pages in total. "It was simple. In January of the next semester, I declared my double major status. I kept writing and fell more in love with prose than ever before." Now Heilman is a double major in English, with a concentration in Creative Writing, and Political Science. He is also pursuing a minor in Theatre. From a GE requirement, Heilman rediscovered an old passion and added a new major.
Combining his skills as a double major in English and Political Science, Heilman applied to and was accepted as an assistant to the Office of the President. His duties include managing the phone line; talking to alumni, students, parents and faculty; as well as greeting visitors to President Johnson. He has also worked on specific tasks for President Johnson, including creating memos for her reference on various topics.
Heilman is grateful for the opportunity to work as an assistant to the Office of the President. He says, "I cannot give enough praise to the entire office team. These are wonderful people, who want what is best for Ohio State students. They have all taught me so much and I am honored to sit in the shade of their Buckeye Trees." "The Buckeye Tree" is a metaphor that Heilman thought of when he first applied to Ohio State. He sees the tree as embodying the connections and community here on campus. "Like a Buckeye Tree, we too have many outreaching branches."
Heilman sees his English studies as integral to his role in the Office of the President. The major has given him the skills to thoughtfully listen and respond, which is vital when answering a call that could be about any topic across Ohio State's six campuses or 88 extension offices. Heilman says, "English is a major of listening to the world around you and forming precise narratives of what that world means...I do not think I could have done this job as a Political Science major alone."
This past summer, Heilman worked at the Ohio Statehouse as an intern for House Representative Richard Brown. His internship was similar to his role in the Office of the President, citing data and writing memos, but he also researched forthcoming bills and ways to allocate spending resources. He says that "half of being a good English major is being able to digest new information." His English major has been instrumental in his ability to collect and disperse information.
Outside of school, Heilman spends his free time involved in the community. He has served on his home county's Farm Bureau Board for three years and volunteers with Ohio State Extension mentoring the future generation of leaders. On campus, he is an executive officer for Farmhouse Fraternity and a proud member of the English Undergraduate Organization (EUGO).
As Heilman nears the end of his undergraduate career, he is thankful for all the opportunities that the Department of English has given him. He is currently in a graduate-level course about the origins of American literature, taught by Professor Elizabeth Hewitt. "Two years ago, I never thought I would be advanced or driven enough to take a high-level master's class, nor would I have been considering what my life would look like with an MFA or MA. The English major allowed me to find my passion." After graduation, Heilman hopes to attend graduate school and work towards promoting literature and education in society.
---
By Lily Triplett-Boyd
Advanced
---