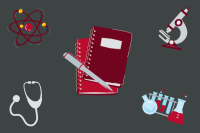 If you frequent BookTok, you might be hard pressed to avoid tropes like enemies to lovers or the classic "unlikely pairs" trope. Well, put down your current read, because we have a real-life unlikely pairs trope straight from your favorite rom com.  
Grace Oswald and Macy Corley have both created an unlikely pair in their academic lives: both Oswald and Corley have paired their STEM major with the Minor in Professional Writing. Oswald is a biomedical engineering major, Corley is a nursing major, and each has found ways to artfully incorporate their writing skills into their courses and professional work. Disappointed in the lack of writing classes in their early college curricula, Oswald and Corley made strides to satisfy their composition crises. After some research and a dash of introspection, they each found their way to the Professional Writing minor.  
Oswald rolled into freshman year with plenty of AP classes under her belt ready to tackle her biomedical engineering prereqs, so in an effort to fill her schedule, she turned to her (second) favorite subject from high school: English. Oswald's turn to English courses had multiple benefits—not only did she enjoy the subject, she had also racked up several AP credits, and needed a minor to remain a full-time student. Oswald needed a minor that would be "useful in my actual career, and so I decided to go with professional writing." 
Oswald proved herself to be correct during her internship last semester at the Department of Marketing and Communications at The Ohio State College of Medicine. She was able to employ the skills she learned in the Professional Writing minor and "talk to researchers and get their specific aims, which is like the summary of their entire research that they send off to the NIH. And I would read their aims…and then I would take all of that information and compile it and turn it into summary articles." Oswald would create two types of summary articles: one includes information about the researcher, and the other contains information about their research. These articles also share information about research happening in the College of Medicine with the broader medical community and those interested in research. This article, among many, can be found on the College of Medicine's website.  
As an RM, or Resident Mentor, Oswald is a passionate advocate for the Professional Writing minor and advises her students to pursue it. She recalls many students seeking advice for a minor that will assist them not only in their major, but their careers overall. "In the general field of STEM, especially with being able to work from home, and home being hundreds of miles away from the office, I feel like it's becoming increasingly important to be able to communicate without standing directly next to somebody," Oswald explains.  
Furthering her pursuits tying together her passions for STEM and professional writing, Oswald recently won The Chen Ya and Siuha Anita Liu Award for Professional Writing, a merit-based scholarship to assist STEM students in improving their professional writing within the Professional Writing minor. According to the award announcement, recipients are chosen based on their "academic excellence, professional writing abilities and depth of connection between the Minor in Professional Writing and STEM career goals."  
Perhaps unsurprisingly, given their shared interest in STEM, Corley was also interested in working with The Ohio State College of Medicine. Corley is currently interning with COM, and drew on her interest in writing when searching for a minor. Coming to Ohio State as a freshman, Corley started out with an undecided major. In her quest for a minor, she suspected that the Professional Writing minor would be applicable to almost any major. And she was right.  
Deep into her nursing education, Corley has found herself supported by her training in professional writing countless times. "One thing I've found in the nursing curriculum is that writing is emphasized, but there's not a specific statement that says 'we want you to be really good professional writers.'" Corley explained that, in addition to the extraordinary amount of writing that nursing students complete that she knew about, like grant writing and research writing (writing the research protocol), she later discovered a whole other section of writing that she didn't know about, such as emails, cover letters, resumes and CV's.  
Corley discovered that writing was such an important (and often overlooked) element of a nursing education that she decided to craft her thesis around it. The minor has "showed me what I'm really interested in, and switched my project to research the writing needs of undergraduate honors nursing students." With the inside point of view of a nursing student, she recognized that a lot of her peers were struggling with the writing process. She plans to take a holistic view of the situation by assessing where students are, how much they are struggling and if there are any gaps in knowledge. In the end, she plans to develop interventions to address the writing needs of undergraduate honors nursing students.  
Looking into the future, Corley says, "I see an integration of the two [professional writing and STEM] in the real world because in college, it's really all separated, and the separation of all these majors is not how it works in real life because everyone's working together. You have business, nursing, marketing, communications, research, engineering–that's all combined. And how do we communicate? Language. Writing."  
Grace Oswald and Macy Corley effortlessly exemplify the importance of strong writing skills in STEM fields, but they demonstrate the relevance of these skills in all fields, college and beyond. Communication is at the heart of many occupations, and Corley and Oswald are wielding their honed skills to create stellar work. 
---
Advanced
---