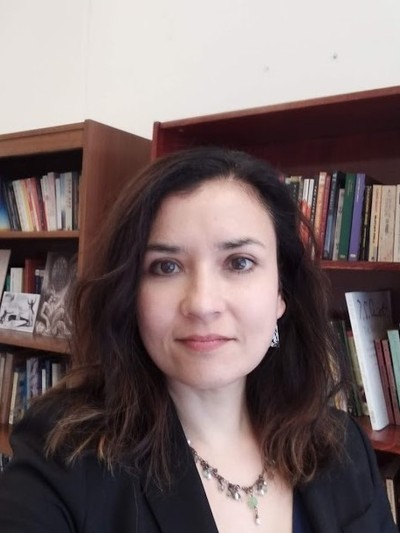 Jill Galvan
Associate Professor
She/her/hers
533 Denney Hall
164 Annie & John Glenn Avenue, Columbus, OH 43210
Areas of Expertise
Victorian literature and culture
Early twentieth-century British literature
Realism and the novel
Victorian and early twentieth-century occultism
Victorian media history
Education
PhD, University of California – Los Angeles
MA, University of California – Los Angeles
BA, University of Texas – Austin
Jill Galvan is the author of The Sympathetic Medium: Feminine Channeling, the Occult and Communication Technologies, 1859-1919. Her past research has focused on long nineteenth-century media technologies, spiritualism, mesmerism and psychical research and on both Victorian and contemporary ideas of the posthuman. She is co-editor with Elsie Michie of the essay collection Replotting Marriage in Nineteenth-Century British Literature. Her current monograph project, After Romance: Alienated Marriage and the Sense and Time of Character Realism, examines realist character's aesthetic form in marriage stories from the Victorian period to the present. She was awarded the OSU English Undergraduate Organization's Professor of the Year in 2021 and was lead organizer of the North American Victorian Studies Association conference in 2019. She regularly teaches courses on the novel and poetry of long nineteenth-century Britain, often juxtaposed with later fiction. Some topics of recent specialized courses: rethinking realism, rethinking the marriage plot, the fin de siècle, Charles Dickens, Oscar Wilde and the Gothic.
Selected Publications
"Love Story's Ontology: Species Feeling in New Grub Street." Victorian Review, forthcoming.
"Marital Realism: Beauty and Pettiness in Middlemarch." Novel, vol. 54, no. 2, 2021, pp. 189-209. 
"Character." Victorian Literature and Culture, vol. 46, no. 3/4, 2018, pp. 612-16. (Keywords issue.)
Replotting Marriage in Nineteenth-Century British Literature. Co-edited with Elsie Michie. The Ohio State University Press, 2018.
"Occult Networks and the Legacy of the Indian Rebellion in Bram Stoker's Dracula." History of Religions, vol. 54, no. 4, 2015, pp. 434-58. (Winner of annual INCS essay prize.)
"Corelli's Caliban in a Glass: Realism, Anti-Realism and The Sorrows of Satan." English Literature in Transition 1880-1920, vol. 57, 2014, pp. 335-60.
"Tennyson's Ghosts: The Psychical Research Case of the Cross-Correspondences, 1901-c. 1936." BRANCH: Britain, Representation and Nineteenth-Century History, ed. Dino Franco Felluga. (Extension of Romanticism and Victorianism on the Net, 2012).
"The Victorian Post-Human: Information, Transmission and the Séance." The Ashgate Research Companion to Nineteenth-Century Spiritualism and the Occult, ed. Tatiana Kontou and Sarah Willburn. (Ashgate, 2012).
Curriculum Vitae
People Filters: