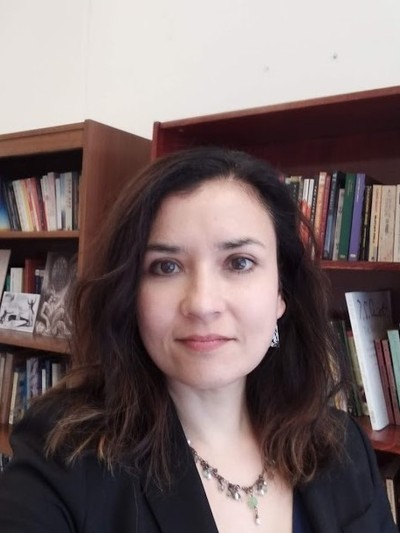 Jill Galvan
Associate Professor
She/her/hers
533 Denney Hall
164 Annie & John Glenn Avenue, Columbus, OH 43210
Areas of Expertise
Victorian literature and culture
Twentieth- and twenty-first-century fiction
Aesthetics and genre
Media theory and history
Education
PhD, University of California – Los Angeles
MA, University of California – Los Angeles
BA, University of Texas – Austin
Jill Galvan's first book was The Sympathetic Medium: Feminine Channeling, the Occult and Communication Technologies, 1859-1919 (Cornell University Press, 2010). More recently, her interests have turned to stories of marriage. She is co-editor of the essay collection Replotting Marriage in Nineteenth-Century British Literature (The Ohio State University Press, 2018). Her current monograph project, The Quiet Fight: Feeling, Time, and Realism in Wedlock Fiction, examines stories - of a type now very common in novels (and film and tv) - about couples whose love and marriage are strained in day-to-day life. Extending from the Victorians (George Eliot, Oscar Wilde and others) up to modern and contemporary authors (Virginia Woolf, James Baldwin, Jenny Offill, Tayari Jones and others), this book offers a new account of emotion, time, relationality and lived being in wedlock fiction. This fiction is fit for now: challenging and flexible in its representation of gender, race, history and the human.
Galvan was awarded the OSU English Undergraduate Organization's Professor of the Year in 2021. She regularly teaches on the long nineteenth century British literature, as well as modern and contemporary literature. Some topics of recent specialized courses: undoing Victorian realism; rethinking the marriage plot; the fin de siècle; Charles Dickens, satire and modern Gothic; and Oscar Wilde. 
Selected Articles
"Love Story's Ontology: Species Feeling in New Grub Street." Victorian Review, vol. 48, no. 1, 2022, pp. 69-90.
"Marital Realism: Beauty and Pettiness in Middlemarch." Novel, vol. 54, no. 2, 2021, pp. 189-209. 
"Character." Victorian Literature and Culture, vol. 46, no. 3/4, 2018, pp. 612-16. (Keywords issue.)
"Occult Networks and the Legacy of the Indian Rebellion in Bram Stoker's Dracula." History of Religions, vol. 54, no. 4, 2015, pp. 434-58. (Winner of annual Interdisciplinary Nineteenth-Century Studies essay prize.)
"Corelli's Caliban in a Glass: Realism, Anti-Realism and The Sorrows of Satan." English Literature in Transition 1880-1920, vol. 57, 2014, pp. 335-60.
"Tennyson's Ghosts: The Psychical Research Case of the Cross-Correspondences, 1901-c. 1936." BRANCH: Britain, Representation and Nineteenth-Century History, ed. Dino Franco Felluga. (Extension of Romanticism and Victorianism on the Net, 2012).
"The Victorian Post-Human: Information, Transmission and the Séance." The Ashgate Research Companion to Nineteenth-Century Spiritualism and the Occult, ed. Tatiana Kontou and Sarah Willburn. (Ashgate, 2012).
Curriculum Vitae
People Filters: