November 3, 2017
Meghan Callahan: From High Street to The High Castle
Image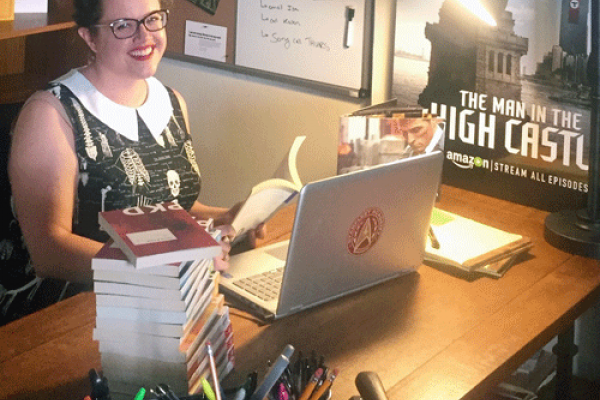 Description
All games have rules, whether they are explicit or implicit. In Monopoly, for example, when one lands on GO, one collects $200. Conversely, if one lands on another's property, they must, as rules go, pay the stipulated rent. What one does not do, is take the next few turns of the board to develop a flamboyant plan to replenish their stores by robbing the bank in a wild, Dillinger-esque style. Does the player's manual specifically discourage this? Well, no. But, you know. Inappropriate. 
And so it goes in life. In the professional world, there are libraries full of books which each espouse the right way to get a job or—in the case of third-year creative writing MFA student Meghan Callahan—an internship. One conducts their research and writes an immaculate resume and cover letter on elegant paper. One arrives early to interviews looking downright dandy. One waits patiently for a response and follows-up politely after the perfect amount of time. One slowly and surely loses their mind.
As part of Meghan Callahan's internship research process, her advisor, Professor Angus Fletcher, recommended that she reach out to Kalen Egan, producer for Electric Shepherd Productions—the production company managed by the estate of beloved science-fiction writer Philip K. Dick. During the course of their conversation, Egan revealed that ESP was thinking about taking on an intern. For Callahan, this was not the time to play nice and follow the rules. For a science-fiction fan with a dream of writing in Hollywood, there was no better place to do so than at ESP. It is no secret that Hollywood has had a decades-long love affair with the writing of Philip K. Dick: Total Recall, The Adjustment Bureau, A Scanner Darkly, Minority Report and, most famously, Blade Runner are all movies based on Dick's short stories and novels. Callahan could have made a mental note of the internship opportunity, continued with the interview, subsequently inquired with ESP's HR department and submitted her application like everyone else. However, Ohio State English students aren't like everyone else. Meghan Callahan isn't like everyone else. "It should be me," Callahan declared. And though Egan was initially hesitant, Callahan enthusiastically described her considerable qualifications. "I convinced him over the phone that I was the best candidate," Callahan says.
---
Callahan's internship landed her on Amazon's The Man in the High Castle during its acclaimed second season. The show, which has been nominated for eight Emmy Awards, takes place in 1962 and imagines what the United States would be like if the Allies lost World War II. Callahan's internship involved collaborating with the writer's assistant, the showrunner's assistant and script coordinator to create a "show bible," an essential element of a show. She also researched questions for the writers. "They'd ask us 'what's a Nazi funeral like?' or 'What was imperial mindset like before World War II?' and we'd go and find that info," Callahan says. "I also took notes on all sessions in the writers' room."
The film and television industry has historically mirrored what was going on in current events—unfortunately, it is no coincidence that The Man in the High Castle's fascist themes eerily echo the recent surge of white-nationalism in the United States and abroad. And while Hollywood narratives often echo progressive calls to change voiced in popular culture, it is notoriously unprogressive in its own operation.
Fortunately, in male-dominated Hollywood, Electric Shepherd Productions is an exception. ESP is run by one of Philip K. Dick's daughters, Isa Dick Hackett, an outspoken advocate for change in the industry who recently went public with sexual harassment claims against the now-former programming chief of Amazon, Roy Price. Hackett told The Hollywood Reporter, "There's a culture of harassment [in Hollywood], and we need an infusion of new and diverse leadership, not just including women but gay people, people of color, people with disabilities—people with the full spectrum of life experience."
Callahan could not agree more. "Women are underrepresented in all sorts of media, but especially in film and television," Callahan says. As such, she is proud to work at a company led by a woman. "Isa [Dick Hackett] is an executive producer of The Man in the High Castle, and she's a woman…it's really neat to see Isa making these inroads into things that were traditionally more male-focused, particularly science fiction," Callahan says.
---
Callahan attended Denison University as an undergraduate, where she earned a degree in creative writing. After graduation, she moved back to her home state of Colorado where she worked as a social media coordinator for a year while she applied to creative writing MFA programs. Ohio State's program particularly attracted her because of the opportunities for funding and the chance to teach.
Of her coursework, Callahan cited two classes at Ohio State as being particularly formative. The first was a playwriting course in the Department of Theatre taught by Jennifer Schlueter. The second class that made a large impact on Callahan was Film Studies 4890: Advanced Screenwriting, taught by Professor Angus Fletcher, whose own path to a career in Hollywood took him to Yale, Stanford and USC before finally landing him here, at Ohio State. "Angus is a wonderful human being and my mentor," Callahan says. "Right off the bat, Angus dispelled the myths that Hollywood screenwriters were all, and could only be, particularly special or rich…He stressed that screenwriters are just people like us, and that the people in the class were probably better writers than them!" Callahan says.
The mantra of the course—and Angus' best advice—Callahan says, was to "Find out what story you want to tell and then tell it." Callahan recalled one particular exercise that helped her on her path to Hollywood: students were instructed to choose a scene from any film or television show and to write the scene the way they thought it would be written in the script. She brought in a scene from Star Trek: The Next Generation, in which Data learns about what it means to be human. When she and Fletcher discussed the assignment later, he asked if she liked fish-out-of-water stories, like the Data scene. Although she hadn't thought about it in that way, Callahan agreed. He then asked her if she liked happy endings or sad endings. "Happy endings," she replied. Fletcher explained that, typically, fish-out-of-water stories with happy endings went one of two ways: either society accepts the fish despite its differences, or the fish changes the world around it. Callahan realized that she strongly preferred the second narrative. Thus, her love of narrative, scripts and creating change in the world began to crystallize into a specific goal.
The process of realizing this goal began in screenwriting class when Callahan volunteered to do "coverage" for a book that Fletcher had to read for a potential project. "Coverage" is a process of reading a story and writing a synopsis of characters, noting which successful movies are similar, which unsuccessful movies are similar, how much each cost to film, etc. Through her hard work and dedication in Fletcher's class, Callahan's dream of an internship in Los Angeles was on its way to becoming a reality.
"Without Ohio State, I wouldn't have been able to finance living in L.A. during the internship. And without the internship, I wouldn't have my current position…Ohio State and its faculty provide students with so many possibilities." Callahan says. However, Callahan also emphasized that it is up to each student to get what they want. "I got the internship with Electric Shepherd," she says. "Ohio State and its faculty, like Angus, will open doors for you, but ultimately, you can only achieve your pursuits through your own work." 
By Avery Samuels and Maxwell Steele
---