Two members of the English Department, Professor Emeritus Sara Garnes and Associate Professor Roger Cherry made a big splash in Wuhan, China this summer, and were featured on a Wuhan University website. According to Bob Eckhart, the Program Manager of the Wuhan University Summer English Program, the summer program was a great success, and Garnes and Cherry were "a big hit with the students!"
The Wuhan University Summer English Program (WUSIEP) is a collaborative project between sister schools Wu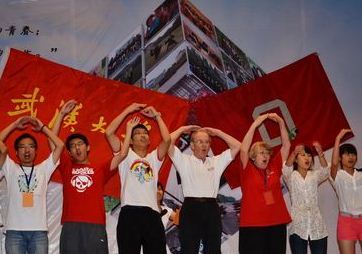 han University and The Ohio State University. It has taken place annually since 2004. English teachers from more than ten prestigious universities in the U.S. are invited to teach in the three-week Summer Spoken English Training Course for the purpose of enhancing the English speaking skills of 800 WHU students, and improving their awareness of American culture.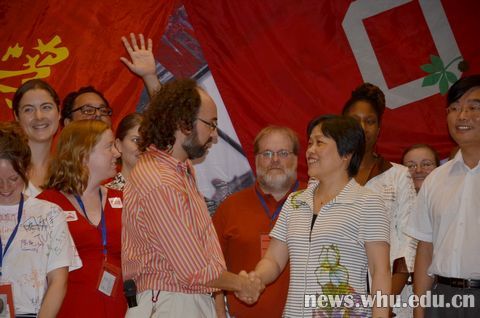 On July 27th, the closing ceremony for WHU's eighth International Spoken English Training Course was held in the main hall of Humanities Building. A variety of performances were put by students and their foreign teachers, reflecting the teaching outcomes resulting from their work together, and the dynamic "collision" of Sino-US culture. The ceremony reached its climax when all the teachers and students sang John Denver's pop classic "Country Roads," and the stage turned into a "bonfire party."
The English Department congratulates our colleagues Sara Garnes, Roger Cherry, and Bob Eckhardt on yet another successful Summer English Program at Wuhan, and on their contribution to understanding and cooperation between our two countries.