RCL Professor Brenda Jo Brueggemann collaborated with current Ph.D. candidate Elizabeth Brewer and now-alumni Nicholas Hetrick and Melanie Yergeau on the Arts and Humanities volume of the SAGE Reference Series on Disability: Key Issues and Future Directions. All four of the co-authors research and teach in disability studies, as well as rhetoric and composition (Brueggemann, Brewer, and Yergeau) and narrative studies (Hetrick). Brueggemann and Brewer (lower left) are currently at Ohio State, Yergeau (upper right) is now an Assistant Professor of English at the University of Michigan, and Hetrick (upper left) is now a pastor at Xenos Christian Fellowship and a teacher at The Wellington School, both in Columbus, Ohio. (All three were at Ohio State when the project was initiated.)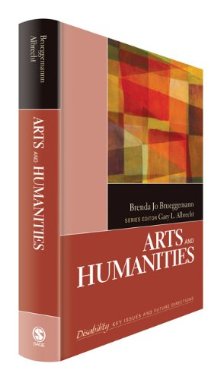 The SAGE Reference Series on Disability examines topics central to the lives of individuals with disabilities and those around them and is both a survey of major disability issues and a guide to new trends and resources in the field. Each of the eight volumes in the series covers a major aspect of disability, accompanied by data and statistics, biographies of key figures, a guide to organizations, a timeline and more. The eight volumes in the series are: Arts and Humanities; Assistive Technology and Science; Disability Through the Life Course; Education; Employment and Work; Ethics, Law, and Policy; Health and Medicine; Rehabilitation Interventions.
For the 8th volume, focused on Disability in the Arts and Humanities, Brewer, Brueggemann, Hetrick and Yergeau (as co-authors) drew on their on experience teaching courses in disability studies at Ohio State to choose content for the chapters. They asked themselves, "What are the main topics we cover in an introductory disability studies course? What have students found particularly relevant and interesting?" This central questioning led the co-authors to identify four major contributions that the Arts and Humanities have made to the study of disability:
questioning models of disability
studying how representation (of others and self-representation) works
inquiring into the language and concepts we use to understand our bodies and minds
positioning disability as part of diversity and identity studies
Because the volume is intended as an introductory text or overview of major ideas about disability in the Arts and Humanities, it is written in a style accessible to students, the public, and scholars alike.
In June 2012, the co-authors presented at the Society for Disability Studies conference in Denver, Colorado, where they shared some highlights from the book as well as personal stories about collaboratively composing it.
The Arts and Humanities volume of the SAGE Reference Series on Disability: Key Issues and Future Directions is now available in hardback:see the publisher's website for more information.