January 28, 2019
Alumni Profile: Lauren Culley on Crafting a Columbus Coffee Narrative
Image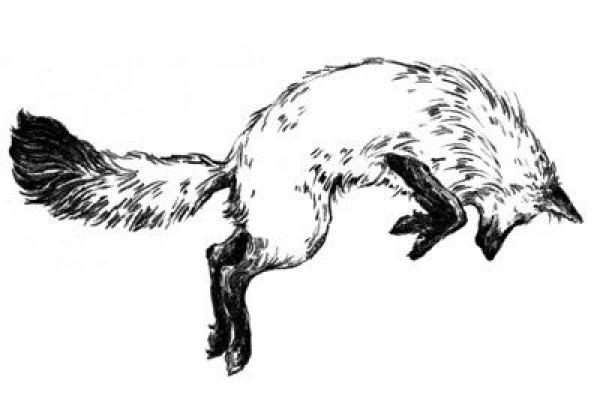 Description
By Madalynn Conkle
Fox in the Snow owner and creative writing alumna Lauren Culley mixes delectable pastries with skilled storytelling to forge a new Columbus coffee identity.
Enter any Fox in the Snow location, and you'll see that everything from its welcoming cashiers to its glossy pastries to its open-floor ambiance harmonize into a poetically-perfect whole. Today, I walked into a revamped century-old movie theater nuzzled at the corner of Thurman Avenue and Jaeger Street in German Village. Although movies no longer screen there, audiences still come to be dazzled by coffee machine set-pieces and intricately choreographed confections.
Stepping up to the island bar to order, I paused—less to think and more to wonder at the glazed pastry showcase. After concluding that a cappuccino and egg sandwich was the move for the day, I secured a corner table and proceeded to pull out my notebook and pen, appreciating the ample writing room the smooth table allotted.
According to Instagram, about 41,800 other people have a FITS fervor, too. And no wonder: close-ups of sugar-studded blueberry galettes and heart-filled lattes furnish its account, sharing the insouciantly enchanting atmosphere of that garage-turned-café Columbus holds so dear.
---
Fox in the Snow has been captivating Columbus since October of 2015, when owners Lauren Culley and Jeff Excell opened the first location in Italian Village. A second shop emerged in German Village during February of 2018 and, most recently, a third in New Albany in January of 2019—all within four years of each other.
I was getting ready to chat with Culley, a graduate of Ohio State's Creative Writing Program, whom I had briefly met at the Department of English's Annual Alumni Panel Dinner in October of 2017. Being an English major taught me to be fearless, Culley had said that evening. The phrase resonated with me and my fellow undergrads in the audience, invigorated by such an exact summation of our education. Culley, like many English students, came across the English major by way of a prophetic teacher. "I was poli-sci and wasn't sure about it," said Culley. "Then one of my teachers was like 'No, you should be an English major.' And I jumped on it and did it." Of course, there is that significant population that finds declaring an English major illogical because there's no set career path. But Culley didn't care. "I was like, 'I love this. This is my passion. This is what will make me happy.'"
For Culley, that was the first time in her adult life that she had made a decision that didn't make a lot of sense to the outside world but that made sense to her. "That set me up to continue to make those kinds of decisions for the rest of my life," she stated. From there, she went on to earn her MFA in creative writing from University of Virginia, a feat Culley said was "the greatest thing [she] could do." Then she trekked up to New York City to take post-graduate classes at Columbia University. It was there in New York that she began baking for Blue Bottle Coffee, where she met her future husband and business partner.
"I didn't even start baking until I was 29 years old. And I thought that I found my career path before that. I think I spent a lot of time in my early 20s really stressed out about knowing what I was going to do…What ended up happening was I started making decisions based on what would make me happy right now… It's a difficult thing to say, "Just do what makes you happy." Because I know a lot of times, it doesn't help you pay your rent. It doesn't give you enough money to like, go on vacations, and do stuff like that. So I know that it's not the easiest thing to hear. But I chose to do what makes me happy, and I think it's worked out. Being an English major kind of set me up for that. It's actually been one of the greatest gifts of my life."
In the midst of their stint at Blue Bottle, Culley, a Columbus native, came back to the 614 to visit family. During this visit, she mentioned that if somebody did the style of cafe that was in Brooklyn in Columbus, Columbus would embrace it. "My dad was like, 'Oh, you should just do it yourself.' And then the seed got planted," Culley recalled. "I mentioned it to Jeff. He had never been to Ohio. Never been to Columbus. And I was like, 'I think I want to open a shop.' And he was like, 'Let's do it, I'm on board.'…Finding somebody who wants to do that kind of stuff with you has been a game changer. I'm like 'This may be crazy. Maybe we should do it' and he's like 'Yeah, let's do it.'"
After that first seed was planted, Culley and Excell were eager to see it bloom. "We felt the city was changing. And there was like a very small window of time. If we didn't do it, somebody else was going to do it," said Culley. Thinking of the idea in March, Culley and Excell had quit their jobs by December to move to Columbus to do it. In February they signed the lease. Albeit, they signed the lease to a large mason garage, making them do a 180° from the concepts for a small shop that they made in NYC. "[The Fourth Street building] started changing what we were doing and where our money went. A lot the vibe of Fourth Street happened because Jeff and I ended up having to DIY it. So like Jeff hand-poured the floor, we painted the building. We didn't have a ton of money to make it look like super swanky and fancy, so I think like a lot of what you see when you're at Fourth Street feels very authentic, because it was. We couldn't over-design it," said Culley.
Another part of FITS's persona that necessity dictated is its iconic arctic fox. In the original plans, Culley and Excell wanted a sign that said "Fox in the Snow"—inspired by the Belle and Sebastian song of the same name. By opening day, however, they did not have enough money for one. So they paid a student to paint the fox up there for what they thought would be a placeholder. She painted it in the afternoon; by that evening, there were pictures on Instagram of people posing with the fox. "Columbus dictated what we were," said Culley. "They kept the fox on the wall…When we thought of [FITS], we thought we would be a coffee shop that sold pastries. But when we opened, Columbus was like, 'You're a bakery, and you sell coffee.' A lot of that changed…and it's all customer driven."
Now that Culley and Excell have well passed the hurdle of opening their first shop, understanding their communities influences their subsequent shops perhaps even more. Their three shops are housed in three distinct neighborhoods, each with their own personality: industrial Italian Village, rustic German Village and Georgian New Albany. "We're always trying to make all the shops feel like siblings…All the tables and chairs are the same, they all have built in benches, we use steel for all our windows. We try to have a lot of green, so [the New Albany shop] will still be filled with plants… We try to make the shop fit in within the neighborhood while still feeling like a Fox in the Snow," explained Culley.
While crafting the new location is thrilling in itself, Culley prefers running the shop, opposed to building it. Her favorite part is the day before the café opens and the day it opens. "The first day when there's still so much excitement around it and you get to introduce yourself to the neighborhood—that's the best."
---
"The first day when there's still so much excitement around it and you get to introduce yourself to the neighborhood—that's the best."
---
Now with three locations under their belts, Culley reflected upon these four years of exponential success. "The most amazing part," Culley told me, "is watching it surpass what you expected…When we opened, we had like three employees, and we couldn't believe we even had three employees. Now we're pushing 140. Going from three to 140 in three years is huge…It feels bigger than you. The response to [Fox in the Snow] has been overwhelming in the best way."
Part of Fox in the Snow's sensational reception must be contributed to, in part, Culley and Excell's sublime world-building. Culley hopes that when customers come into Fox in the Snow, everything—the food, the furniture, the music—makes sense together. Their perfect execution of this specific FITS brand is something Culley attributes to her creative writing background. 
---
"I think [writing] helps me be able to tell the story of the shop…If you understand how to create a setting, an environment, you can create a narrative for the shop…I think I have a pretty good understanding of that from writing all those years," said Culley.
---
On a regular basis, Culley uses her writing prowess in everything from responding to customer messages to taking the lead when working with investors to posting Instagram stories. "I think I learned so much by [working at FITS]. I still am. I think wanting to share those new things that you learn makes you want to write, even if it's like just Insta stories…I feel like I have been on this crazy four-year risk-taking, hardworking thing, and as you learn new things and you have new experiences, there's the desire to talk about them," said Culley.
Listening to Culley, who specialized in fiction writing while in school, talk about wanting to share experiences through story, I couldn't help but ask this about the prospects of getting any of her writing in print. "I would love to write again. But I think now that the stories I want to tell are very different because now I feel like a story that I would want to tell is a nonfiction story. So I love to be able to tell that, like a cookbook or memoir…Of course, I would have to devote an amount of time that I just don't have right now," she replied.
As important as poetics are to Fox in the Snow, pastries are Culley's primary mode of artistic expression. From beginning to end, Culley ensures that her baking is as beautiful and precise as her wordsmithing. When brainstorming a new confection, Culley always knows exactly how she wants the food item to look and how it should be displayed, and from there it's just a matter of nailing down the recipe.
Of all the fabulous aspects of running Fox in the Snow, however, Culley says the part she holds most dear are those magic moments in the kitchen at 3 a.m. when she polishes the pastries with finishing glazes and sugar on top. "It's really lovely and meditative. You're by yourself, you put on whatever music you want. Time flies by. When I'm not in the kitchen, it's what I miss. Your whole job is in those hours by yourself to make everything look beautiful. You take things out of the oven, and they're perfect. It's a lovely feeling."
---
Reading Recommendations
Blood, Bones and Butter by Gabrielle Hamilton. "One of my favorite books that I'll read over and over again. She has one of my favorite restaurants in New York, and she's a fantastic chef and writer. I think what she's done with her restaurant is incredible. When I read her book, I think, She did it. She figured out how to do both [writing and cooking].
The Ensemble by Aja Gabel. "I went to grad school with Aja, and her book just came out. It's amazing to see these people I went to school with get published.
Anything by Michael Cunningham. "I felt like he really changed the way that I wrote, the way that I read fiction. I don't know if he's come out with anything super recently. But for the rest of my life, he'll probably be my favorite author."
Advice for Students
Ask for the things you want. "I think that a lot of the time people assume someone's going to tell them "no," or they assume someone's like too far above them, or whatever it is. Once I got to New York, I think that I just felt like it had nothing to lose. So I would just be like, "Can I come in and do this for you? Can I volunteer? Can I take you out to coffee and ask you about this?" I was shocked by the number of times that people said yes. And I also assume that everyone else was asking and nobody else was asking. So ask for what you want. If you don't get it that's like the worst case scenario. But most of the time I think you'll be surprised at how many times people say yes.
---