Professor Brenda Brueggemann has been selected as one of this year's honorary "links" by Sphinx, the University's senior class Honorary. Eash year, SPHINX is proud to bestow membership onto the twenty-four students and eight honorary members selected by the class for upholding the highest ideals of scholarship, leadership, camaraderie, citizenship, and service at The Ohio State University.
Founded in 1907, SPHINX, The Senior Honorary at The Ohio State University, boasts a heritage of pride and tradition. Their determination to better the University and their pride in Ohio State manifest themselves in numerous ways around campus, including major contributions to the Ohio Stadium Construction Fund in 1921, and SPHINX Plaza on the north side of the Main Library, presented to the University to celebrate 75 years of SPHINX service to OSU. The first "linking" of Sphinx members was held on the second Wednesday in May, 1907. The traditions of the Long Walk, the sundial, and the singing of "Carmen Ohio," which new links experience each and every year are the same as those experienced by the links of the class of 1907.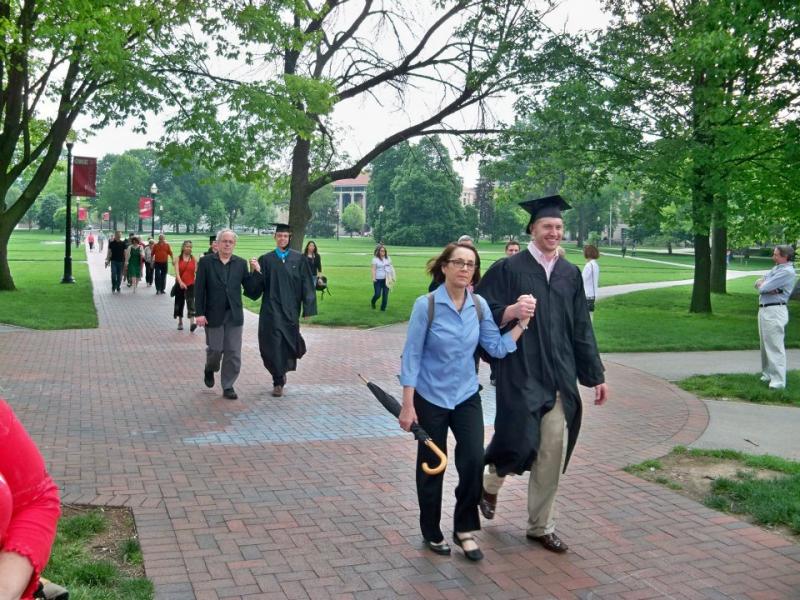 Professor Brueggemann joins an illustrious group. Previous honorary Sphinx Links include Senator John and Mrs. Annie Glenn, former OSU President Karen A. Holbrook, and the Honorable Robert M. Duncan, former Federal Judge and Justice of the Ohio Supreme Court from 1968 to 1971. Previous members of the English Department who have been accorded this honor are Professors John Sena (1975), David O. Frantz (1977), Donald W. Good (1978), C. Grey Austin (1979), Al Kuhn (1991), John and Jeanne McCoy (2006), and Jacqueline Royster (2008).