EUGO, our English Undergraduate Organization, had a great day for their 5K Race for Education, raising $1800 which benefits the Columbus area non-profit "I Know I Can." Congratulations, EUGO; it was a fabulous event, in an excellent cause!
The Race for Education is a fundraiser for a Columbus non-profit called "I Know I Can" and for the yearly EUGO scholarship award. The majority of the proceeds will go to I Know I Can, a group that provides resources for Columbus city school kids to go to college.
Since its founding in 1988, I Know I Can has worked "to inspire, enable and support Columbus City School students in pursuing and completing a college education." As the only college access program in Columbus, the organization plays a critical role in ensuring that local students have access to higher education regardless of their socioeconomic status. I Know I Can conducts programs for students from the elementary through high school levels, encouraging their dreams to attend college and equipping them with the skills and resources necessary at every step in the process. Perhaps most notably, I Know I Can has awarded nearly $23 million in direct grant support to Columbus City School graduates as well as leveraged over an additional $300 million in other financial aid for these bright and driven students.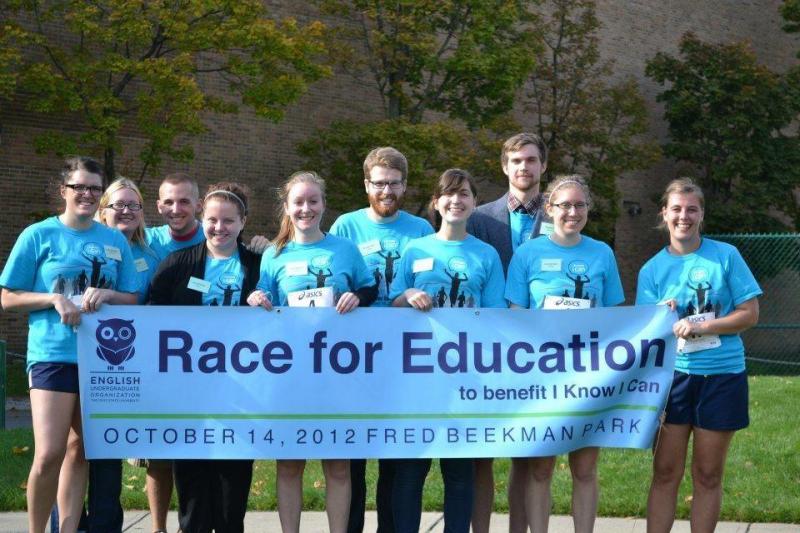 An all-student team of EUGO members coordinated the logistics, fundraising, and marketing for this event, aided by the generosity and enthusiasm of Barnes & Noble The Ohio State University Bookstore. EUGO seeks to support I Know I Can's programs as part of its mission to take English studies beyond the classroom and engage undergraduates with the Department of English, the campus community, and the city of Columbus more broadly. Because all of its student members have been granted the opportunity to pursue a college degree, EUGO believes strongly in I Know I Can's dedication to making higher education more accessible to more students.
"I love college and Ohio State, so I love the idea of being able to help other kids go to a place where they can get a solid education, a wealth of experiences, and new perspectives," says Taylor Sawyer, treasurer of EUGO.