Image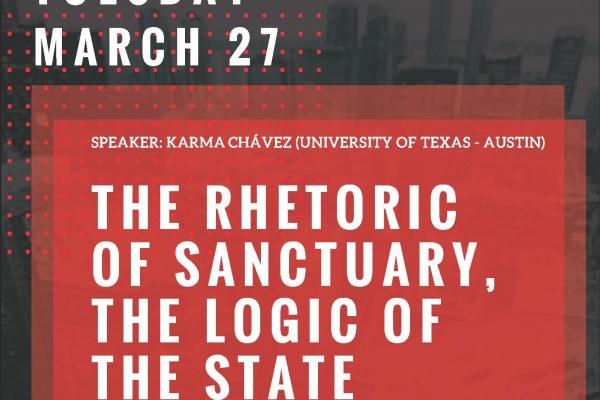 Description
"The Rhetoric of Sanctuary, the Logic of the State"
Speaker: Karma Chávez (University of Texas - Austin)
Leading up to and following the election of Donald Trump, allies of undocumented immigrants on college campuses and in progressive communities made or renewed their commitments to sanctuary. The idea of sanctuary, meant to protect the unauthorized from the overreach of the state, has gained significant traction, so much so that it became one of President Trump's initial targets in his first executive orders on immigration. Professor Chávez will provide a close analysis of the rhetoric of sanctuary, particularly taking up the case of college campus policies, in order to investigate both why sanctuary is so popular among progressives and viewed as such a threat by conservatives. She will then show how the rhetoric of sanctuary challenges and reinforces state logics and consider what alternatives to sanctuary undocumented people and their allies may consider and are already enacting.
---
Karma R. Chávez
is an associate professor in the Department of Mexican American and Latina/o Studies at the University of Texas - Austin. She is co-editor of Text + Field: Innovations in Rhetorical Method (with Sara McKinnon, Robert Asen and Robert Glenn Howard, Penn State Press, 2016), Standing in the Intersection: Feminist Voices, Feminist Practices in Communication Studies (with Cindy L. Griffin, SUNY Press, 2012), and author of Queer Migration Politics: Activist Rhetoric and Coalitional Possibilities (University of Illinois Press, 2013). Karma is also a member of the radical queer collective Against Equality, a former organizer for LGBT Books to Prisoners, and for years, was a host of the radio program, "A Public Affair" on Madison's community radio station, 89.9 FM WORT. Karma has long worked closely with several community organizations on issues surrounding queer, racial, economic, and immigrant justice.
---
The Corbett Lecture was established in 1999 through the generosity of the estate of Professor Edward P.J. Corbett. Co-sponsors of this event include Human Rights in Transit (a Discovery Theme project), the Latino/a Studies Program, the Department of English and the Rhetoric, Composition and Literacy Studies Program.
---