Short-Term Study Abroad | Summer Study Abroad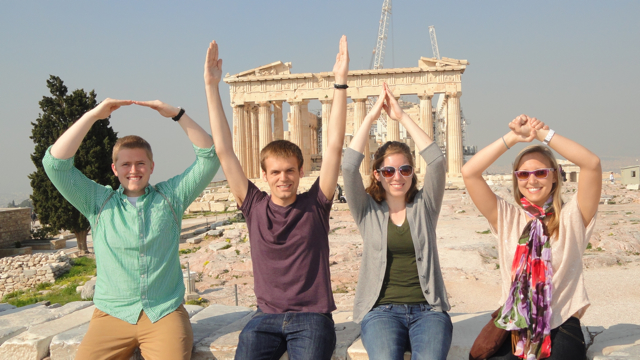 The Department of English is home to two study abroad programs for undergraduates from across the university. The first is our Literary Locations Program, which is typically offered during both the autumn and spring terms. This program engages students in a semester-long course focused on the literature of a particular city and historical period(s), for example: the literature of 16th-century Venice and eighteenth- and ninetheenth-century Florence). Students then spend ten days abroad in that location along with their classmates and the course instructor.
The Summer Study Abroad Program, offered in the May session, enables students to study the art and history of a location while also living there for a month over the summer. Through the program, students will take a three credit hour course which focuses on a specific contribution of a particular city to the world, for example: The Literature of London-London on Stage and Screen. As a part of the course, students will visit sites and engage in activities relevant to the course subject like seeing plays, visiting art galleries and taking literary/historical walks in London.
Both the Literary Locations and Summer Study Abroad Program offer students the opportunity to earn upper-level credit, which can be applied to their English majors, English minors or overall university degrees. For more information about these programs, including upcoming application deadlines, tuition and fees and scholarship opportunities, click on the links at the top of this page.
For information on study abroad opportunities offered outside of the Ohio State Department of English, visit the university's Office of International Affairs.