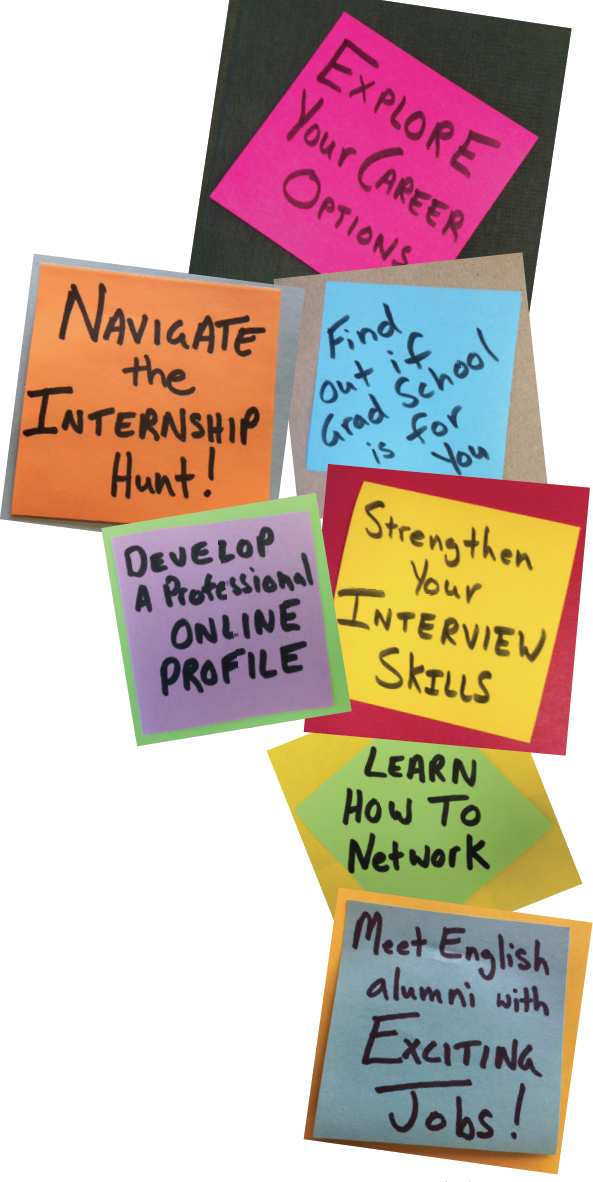 Each fall and spring semester, we offer a course specifically designed to assist English and other humanities majors explore and prepare for their post-graduation careers. The course is currently offered under English 5194, Group Studies. It is a 3 credit-hour course and is typically taught by Senior Lecturer Jenny Patton.
Course Description
This course is designed for English majors, and other students, interested in exploring and preparing for their post-graduation careers. We will begin by reflecting on individual students' strengths and preferences and thinking about job activities and careers that might complement these. We also will examine specific work environments (e.g., corporations, universities, and nonprofits); the value of attending graduate or professional school; and the role that internships, undergraduate research, and networking play in career development. In addition, we will look at how to organize and manage an internship and job hunt; how to put together strong resumes, cover letters, and portfolios; and how to interview well via phone and Skype and in person.
Sample Syllabus
A sample syllabus is available for your review; however, students interested in taking this course should note that the actual syllabus used in the course from the one available here.
Sample Syllabus [pdf]
How to Enroll
If you are interested in enrolling in Career Preparation for English Majors, check out the upcoming term's course schedule available through your Student Center for details about the class meeting day, time, and location. Currently, you will find the course under the course number English 5194. Note that the course typically meets once weekly for three hours. You can then enroll in the course once your scheduling window opens for the upcoming term.
Questions
If you have questions about the course structure or content, please contact Jenny Patton at patton.220@osu.edu.
---
[pdf] - Some links on this page are to Adobe .pdf files requiring the use of Adobe Reader. If you need these in a more accessible format, please contact english.communications@osu.edu.