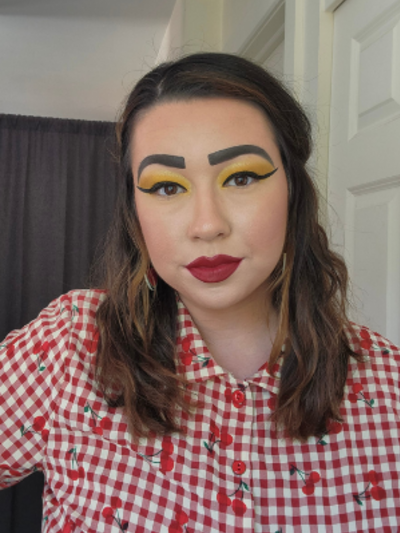 Katlin Sweeney
PhD in English Candidate
525 Denney Hall
Columbus campus
Areas of Expertise
Latinx studies
Popular culture
Critical prison studies
Suburban studies
Horror studies
Education
MA, English & Comparative Literature (American Literature), San Diego State University, 2018
BA, Literature & Writing Studies (minor in Women's Studies), California State University – San Marcos, 2016
Pronouns
She/her/hers
Katlin Marisol Sweeney is a PhD student in the Department of English who researches how fictional narratives of Latinx women's pain and suffering in media either successfully or fail to generate space for these characters to work through their pain towards healing, which can culminate with the creation of pathways towards a sustainable futurity. Her other research interests include the historical erasure of Salvadorans and Salvadoran-Americans in the United States, the inclusion of BIPOC (Black, Indigenous, and people of color) characters in TV/film ensemble casts, Afrofuturism and Chicanafuturism, media representations of the U.S. prison industrial complex and cat sidekicks in comics.
Sweeney has presented at a number of conferences and symposiums, including the Michigan State University Comics Forum, the Multi-Ethnic Literature of the United States (MELUS) Conference, the National Association For Chicana and Chicano Scholars (NACCS) Conference, the Pacific, Ancient and Modern Language Association (PAMLA) Conference, the Hispanic & Lusophone Studies Symposium, and the Will Eisner Week Scholarly Symposium. She also works as a mentor with LASER: Latinx Space for Enrichment and Research at Ohio State and is involved with organizing and volunteering for LASER's signature events: SOL-CON and Latinx Role Models Day.
Prior to her time at Ohio State, Sweeney also served as the Editor for San Diego State University Press' pacificREVIEW: A West Coast Arts Review Annual from 2017-2018, as an editorial assistant at SDSU Press from 2016-2018, as a peer coordinator at California State University San Marcos' LGBTQA Pride Center from 2015-2016, and as the Editor-in-Chief of California State San Marcos' independent student newspaper, The Cougar Chronicle, from 2013-2016.
People Filters: