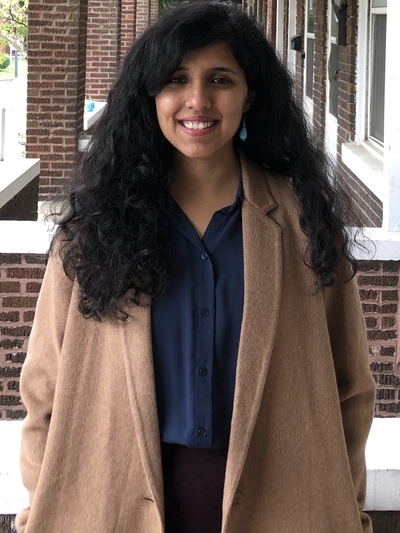 Preeti Singh
PhD in English Student
She/her/hers
421 Denney Hall
164 Annie and John Glenn Avenue, Columbus, OH 43210
Areas of Expertise
Postcolonial Studies and Global Anglophone Literature
Human Rights
Global Cold War
South Asian Literature and Cinema
Political and Cultural Theory
Gender and Sexuality
Infrastructure Studies
Education
M.Phil. Jawaharlal Nehru University, New Delhi, 2014
MA, Jawaharlal Nehru University, New Delhi, 2012
BA (Hons.), English. University of Delhi, 2010
Preeti Singh is a Ph.D. Candidate in English and an affiliated fellow at the Mershon Center for International Security Studies. She researches and teaches postcolonial studies and Global Anglophone literature with a focus on twentieth and twenty-first-century South Asian and South Asian diasporic writing. She is especially interested in literary expressions of political and social crisis in the decolonization era, discourses of human rights, and the contemporary rhetoric and theories of populism. Her doctoral dissertation titled Postcolonial Exceptions: Cultural Lives of the Indian National Emergency (1975-1977) examines representations of the widely memorialized national Emergency declared by Indian prime minister Indira Gandhi on June 25, 1975. This project reads a range of genres- novels, theatre, cinema, and political cartoons, to script a cultural history of post-independence India through the prism of the 'Emergency'. 
At Ohio State, she has designed and taught several courses on postcolonial literature, immigrant fictions, science fiction and fantasy, and American literature. As the president of the South Asia Graduate Studies Association, she has convened film screenings, lectures, and workshops on transnational modernism, caste, gender, and race in South Asia. Before beginning research at Ohio State, Preeti taught English literature at the University of Delhi. She completed her M.A. and M. Phil degrees at Jawaharlal Nehru University in New Delhi, where she wrote a dissertation on representations of postcolonial subjectivity in the emerging genre of the Indian graphic novel. 
Her interdisciplinary research has been supported by the Mershon Center for International Security Studies, and the Gordon P.K. Chu Memorial Fellowship. Preeti's academic work has appeared in South Asian Review, The International Journal of Comic Art, the Journal of Drama Studies, Strange Horizons, and Raiot Magazine.
Selected Publications
People Filters: