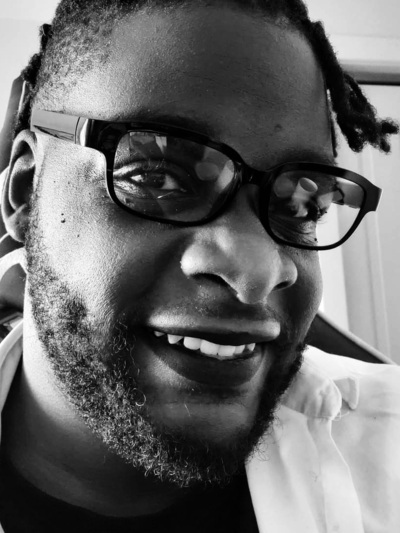 D'Arcee Charington Neal
PhD in English Student
he/they
559 Denney Hall
164 Annie and John Glenn Ave, Columbus, OH 43210
Areas of Expertise
Academic Writing
African American rhetorical theory
Afrofuturism
Creative writing
Disability studies
Digital humanities
Digital composition
Screenwriting
Education
MA, Rhetoric and Composition, University of Maryland at College Park, 2019
MA, Creative and Professional Writing, Roehampton University, 2011
BA, English, University of North Carolina ⁠at Pembroke, 2008
D'Arcee Charington Neal is a fourth year doctoral candidate at The Ohio State University in English and Disability Studies, where he is coining the theory of Afrophantasm or the rhetorical applications of invisibility through Afrofuturism and black disability culture. With a double master's in Creative Writing and Rhetorical Composition, he is writing and composing an audio novel and digital dissertation where his research is focused on recognizing historical and future black disabled people, as unseen agents of stigma he calls spectres. Believing that this association between race and disability can be weaponized through posthumanist applications of embodied culture, he believes that Afrophantasm can change how people both understand and experience disability culture. Further, he believes that the resulting black future can and should be both, accessible and in Wakanda, forever. D'Arcee is also the recipient of numerous research awards and scholarships including 1st place in 2020 Graduate Hayes Forum, 2020 Best Digital Media Graduate Scholarship, NEH, Sweetland Digital Rhetoric, and Black Quantum Futurist Fellowships on Black Writers, and the 2020 Anne Sborowitz Scholarship for Best Disability Scholarship.
Selected Publications
Banks, Joy, Phillandra Smith & D'Arcee Charington Neal. "Identity Politics: Exploring DisCrit's Potential to Empower Activism and Collective Resistance". DisCrit Expanded: Reverberations, Ruptures, and Inquiries, eds. Subini A. Annamma, Beth A. Ferri, David J. Connor, Teachers College Press, 2022.
"Keeping it Unreal by Darieck Scott: A Review". INKS: The Journal of Comic Studies Society, Fall 2022 Vol. 6, Issue 2, 2022.
"Mutant and (Not) Proud: Disability's Erasure from X-Men's Storm". Futures of Cartoons Past: The Cultural Politics of X-Men: The Animated Series. 2023.
Curriculum Vitae
People Filters: