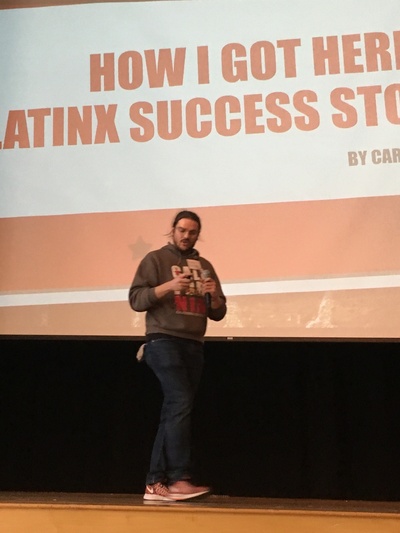 Carlos Gabriel Kelly
PhD in English Student
He/him/his
461 Denney Hall
164 Annie and John Glenn Ave, Columbus, OH 43210
Areas of Expertise
American literature
Creative writing (poetry)
Latinx studies
Video game studies
Gender studies
Education
MFA, Poetry, San Diego State University
MA, American Literature, San Diego State University
BA, English, San Diego State University
Carlos Gabriel Kelly is first-generation Mexican American and third-year Ph.D. student in the Department of English specializing in Latinx Studies and Video Game Studies. His research seeks to merge the two fields by interrogating the liminal spaces associated with video games, specifically video game consoles, and how Latinx theory, through mestizaje, can open up new modes of analysis and study. In Fall 2019, Carlos will complete his Graduate Interdisciplinary Specialization in Women's, Gender, and Sexuality Studies. Apart from his duties as a student, he has also been the Executive Director of LASER since 2017, and as acting Co-Director he aims to continue growing LASER both within the community and on the OSU campus. His professional goals include publishing more books of poetry, writing a book-length dissertation, establishing his own LASER program at a university, and to ultimately gain a tenure-track position teaching large lecture hall classes to incoming freshman.
Selected Publications:
Forthcoming: Kelly, Carlos. ¿Quien Manda in Star Wars? Disidentifying with the Bandido in The Mandalorian." Latinx TV. 2021.
Kelly, Carlos. Review of Her Body and Other Parties. Chiricú, 2020.
Kelly, Carlos. "Building Empathy in Video Games through Digital Mesitzaje in Hellblade: Senua's Sacrifice." Cultural Studies in the Digital Age. San Diego State University Press, 2020.
Kelly, Carlos. "No Somos Cabras." No Tender Fences: An Anthology of Immigrant and First-Generation American Poetry. Edited by Ferreira, Carla Sofia and Sousa, Kim. September 2019.
Kelly, Carlos. "Calling out El Tio Sam." Review of Drawing on Anger: Portraits of U.S. Hypocrisy, By Eric J. García. American Book Review: Graphic Non-Fiction. January 2019. Vol. 40.2.
Kelly, Carlos & Aldama, Frederick. "The Good, Bad, and The Messy: Michael Peña's Browning of the Twenty-First-Century Silver Screen." Latinx Ciné in the Twenty-First Century. University of Arizona Press, 2019.
Kelly, Carlos. Wounds Fragments Derelict. 2LeafPress. New York, May 15, 2019. Poetry.
Chang, Victora. Interview by Carlos Kelly. Poetry International, March 30, 2017.
Kaminksy, Ilya (2017, February 28) Poetry International, Forum: Poets and Borders.
People Filters: