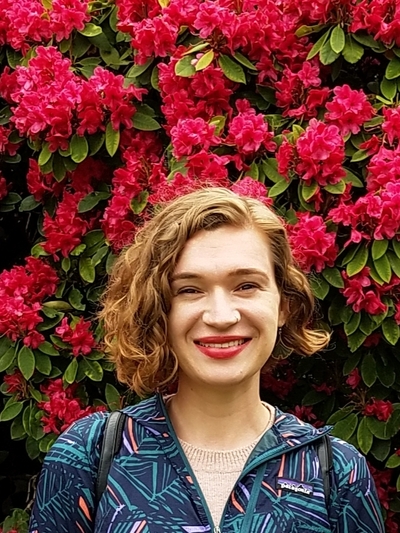 Keira Hambrick
PhD in English Student
She/her/hers
547 Denney Hall
164 Annie and John Glenn Ave, Columbus, OH 43210
Areas of Expertise
Composition Studies
Rhetoric, Composition and Literacy
Teaching for Transfer
Writing Center Studies
Writing Pedagogies
Writing Program Administration
Education
MA, English Literature & Environment Studies, University of Nevada – Reno, 2011
BA, English & Creative Writing, Marietta College, 2009
BS, Biology, Marietta College, 2009
Keira Hambrick is a first-generation college student and PhD candidate in the Rhetoric, Composition and Literacy studies program. Her research interests include undergraduate and graduate writing pedagogies, writing program administration, writing center studies and inclusive assessment practices. Her dissertation, "Prior Knowledge and Transfer of Learning in First Year Composition", examines how writing programs, courses and instructors' practices may affect the kinds of prior knowledge that students successfully transfer through the FYC classroom. This interdisciplinary project draws from and seeks to contribute to a variety of different fields, including Teaching for Transfer, Culturally Relevant Pedagogy and the Scholarship on Teaching and Learning.
Keira's research is informed and motivated by more than a decade of professional experience in composition teaching and writing—including five years as a writing center director—at both public and private institutions. She has taught a variety of courses, including first year composition (I and II), writing center theory and pedagogy, business & professional writing, critical reading comprehension, first-year seminar and college success courses and introduction to Disability Studies.
At OSU, Keira has had the opportunity to support the First Year Writing Program (2020-2021) and the Center for the Study and Teaching of Writing's Writing Associates Program (2020-2022). As a 2022 Presidential Fellow, she looks forward to working full-time on her dissertation--an opportunity for which she is deeply grateful.
Selected Publications
"First Year Composition Instructors' Assumptions About Students' Prior Knowledge: Results From a Nationwide, Mixed Methods Study". Chapter proposal invited for inclusion in Radical Frameworks for Writing Transfer: Epistemological Justice in the Writing Classroom, Lisa Tremain and Libbi R. Miller (Eds). Peter Lang.
Hambrick, K. & G.N. Giaimo. Understanding the Challenges and Needs of International STEM Graduate Students: Implications for Writing Center Writing Groups. Forthcoming, as of 2021, in Spring 2022 in Across the Disciplines.
Johnson, G.P., G. Guadron, K. Hambrick, Y.N. Hashlamon, A.B. Koneval, & C. Teston. "Responding to the Investigative Pivots of Rhetoric Research". Rhetoric Society Quarterly, vol. 51, no. 5, 2021, pp. 407-421.
"Review of 'Literacy and Mobility: Complexity, Uncertainty, and Agency at the Nexus of High School and College'". Literacy in Composition Studies, vol. 8, no. 1, 2021, pp. 72-75.
"Review of 'A Theory of Moral Education'". Journal of Educational Philosophy and Theory, vol. 52, no. 3, 2019, pp. 322-26.
People Filters: