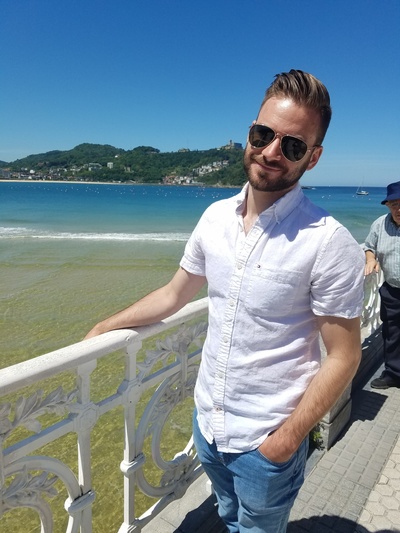 Antonio J. Ferraro
PhD in English Student
He/him/his
555 Denney Hall
164 Annie and John Glenn Ave, Columbus, OH 43210

Areas of Expertise
Narrative theory
Medical humanities
Twentieth- and twenty-first-century American literature
Education
MA, Literature and Cultural Theory, University of Cincinnati, 2017
BA, English and Philosophy, Ohio Northern University, 2015
Antonio J. ("Joey") Ferraro is a PhD candidate in English, studying contemporary American literature, narrative theory and the medical humanities. His dissertation, "Didacticism in Contemporary Illness Narratives: Dialogue, Subjectivity, Justice," explores how, when and why authors of illness narratives such as Audre Lorde, Philip Roth and Reynolds Price have turned to didacticism in their efforts to represent their experiences, with particular attention to how their efforts complicate prevailing notions of what it means to tell a story "with a moral." He has taught a range of courses at Ohio State, including ENGL 3361: Narrative Medicine and ENGL: 2261 Introduction to Fiction, and in 2021, he received the Outstanding Student Advocate Award from the Office of Student Life Disability Services for his commitment to accessibility in the classroom. He has served in a variety of outreach, communication and programming roles, including as a member of the advisory board for the Medical Humanities certificate at the University of Cincinnati; two years as the graduate assistant for Project Narrative; and, currently, as the editorial assistant for the journal Narrative and as the Outreach Coordinator for the International Society for the Study of Narrative.
Selected Publications
"Philip Roth, Mikhail Bakhtin, and the Dialogic Didactic." Accepted for forthcoming 2023 issue of Style.
"An Art of Variety: A Response to Richard Joseph." Los Angeles Review of Books. 2022.
"The Many Fictions of Illness: A Rhetorical Approach to Understanding Fictionality in Mom's Cancer." Literature and Medicine, vol. 39, no. 2, Fall 2021, pp. 227-248​​
"The Price of an Ending: Reading Graphic Embodiment in Cancer Vixen." Graphic Embodiments: Perspectives on Health and Embodiment in Graphic Narratives, edited by Lisa DeToro and Jodi Cressman, University of Leuven Press, 2021, pp. 153-162.
Contributor on "A Whole New Life," by Reynolds Price. Disability Experiences: Memoirs, Autobiographies, and Other Personal Narratives, edited by G. Thomas Couser and Susannah B. Mintz, Macmillan Reference, 2019.
"The Towers' Shadow: Review of 9/11: Topics in Contemporary North American Literature." Edited by Catherine Morley, The John Updike Review, vol. 5, no. 2, Summer 2017, pp. 123-127.
People Filters: