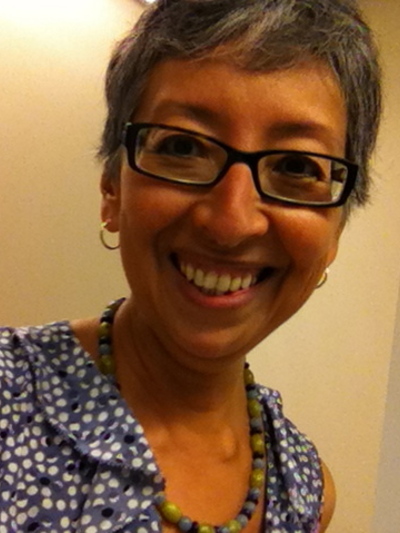 Theresa Delgadillo
Affiliated Faculty
436 Hagerty Hall
Columbus campus

Areas of Expertise
Twentieth- and twenty-first-century American literature
Multi-ethnic U.S. literature
Latina/o literary and cultural studies
Life story/oral history/autobiography
Documentary film
Literature of the Americas
Critical theory
Education
PhD, University of California – Los Angeles
MFA, Arizona State University
BA, University of Wisconsin – Milwaukee
Theresa Delgadillo is a Professor of Comparative Studies at Ohio State and an Affiliated Faculty to the Department of English. She serves on the Faculty Council for the Latina/o Studies Program at Ohio State, and served as Director of that program from 2014 to 2016. Her research focuses on religion and spirituality in Chicana/o and Latina/o texts and contexts, Latinas/os in the Midwest and Afro-Latinidad. 
BOOKS
Latina Lives in Milwaukee. Urbana-Champaign: University of Illinois Press, 2015.
Spiritual Mestizaje: Religion, Race, Gender, and Nation in Contemporary Chicana Narrative. Durham: Duke University Press, 2011.
SELECT PEER-REVIEW ARTICLES
"The Ideal Immigrant." Aztlán: A Journal of Chicano Studies. 36:1 (2011): 37-67. 
"The Criticality of Latino/a Fiction in the Twenty-First Century." American Literary History. 23.3 (2011): 600-624.  
"Singing 'Angelitos Negros': African Diaspora Meets Mestizaje in the Americas." American Quarterly 58.2 (2006): 407-430. 
"La aparición de la literatura chicana feminina." Revista de la Universidad de México. Nueva Época.3 (2004): 65-71.   
"Exiles, Migrants, Settlers, and Natives: Literary Representations of Chicano/as and Mexicans in the Midwest." JSRI Occasional Paper No. 64. East Lansing, MI: The Julian Samora Research Institute, Michigan State University, 1999. 1-11. 
"Forms of Chicana Feminist Resistance: Hybrid Spirituality in Ana Castillo's So Far from God." Modern Fiction Studies 44.4 (1998): 888-916. 
SELECT CHAPTERS IN VOLUMES 
"Latino/a Spirituality." Chapter in Routledge Companion to Latino/a Literature. Edited by Suzanne Bost and Frances R. Aparicio. London: Routledge, 2012. 240-250. 
"Latino/a Literature and African Diaspora."  Chapter in Companion to African American Literature.  Ed. Gene Jarrett.  Malden, MA: Blackwell Publishing, 2010.  376-392.
"'Angelitos Negros' and Transnational Racial Identifications." Rebellious Reading: The Dynamics of Chicana/o Cultural Literacy.  Ed. Carl Gutiérrez-Jones.  Santa Barbara, CA: Center for Chicano Studies, 2004.  129-143.
"Film and the U.S. Latina and Latino Religious Experience: Representations of Religion in the U.S.-Mexico Borderlands." Introduction to the U.S. Latina and Latino Religious Experience.  Ed. Hector Avalos.  Boston: Brill Academic Publishers, 2004.  170-192. 
People Filters: