Each Ohio State University MFA candidate is a member of Writers Guild, an organization dedicated to enhancing student life and the university community through fundraisers, social activities, industry panels and recognition of graduating classmates. Its board serves as a liaison between graduate students and faculty to discuss developments and communicate news.
2018-2019 Writers Guild Board Members
President: Sheldon Costa
Treasurer: Maggie Colvett
Secretary/Media Rep: Scott Broker
Community Workshops Coordinator: Kris Edwards and Meagan McAlister
Directors of Editors' Panel: Maggie Colvett, Emily Greenberg, and Meagan McAlister
Directors of Writers' Harvest: Josie Kochendorfer and Molly Ortiz
Directors of StuFac: Josie Kochendorfer and Joy Grace Chen
Directors of MoTo: Kaiya Gordon and Chris Santantasio
Directors of Epilog: Kaiya Gordon, Molly Brown, and David Grandouiller
---
Student-Faculty Readings
Once or twice a semester, a faculty member teams up with several MFA students to give a reading that is open to all. These events are a special showcase for the MFA students to read their work.
Stu-Fac is normally held in Thompson Library, and light refreshments are available. For the latest Stu-Fac information, please visit the Creative Writing Events page.
---
Mother Tongue (MoTo)
Mother Tongue evenings offer MFA students an opportunity to read from their work to their peers in a spirited setting off campus. Students often dedicate much time and creativity to their introductions of one another, fostering an entertaining evening rich with camaraderie. For the latest MoTo dates and information, please visit the Creative Writing Events page.
All MoTo readings are held at 7:30pm at the Barley's Brewing Company Underground, 467 N. High Street.

September 2015 MoTo
---
Editors Panel
This event provides MFA students as well as the greater university and Columbus community with the opportunity to get firsthand advice from editors and, in some cases, literary agents. MCs ask questions provided to them by students. Please consider volunteering for one of the planning positions or committees: editor selection committee, catering coordinator, travel and hotel coordinator, publicity or MC coordinator.
Editors Panel 2017
Editors Panel 2017 was held on Monday, October 20 at 4:00pm in Denney 311. Featured editors were: Wayne Miller, Katia Bachko, and Eric Obenauf.
Wayne Miller, Editor/Managing Editor of Copper Nickel Journal. http://copper-nickel.org/, http://onlythesenses.com/wordpress/
Miller is the author of four poetry collections. He has cotranslated two books by Moikom Zeqo and he has coedited three books including Literary Publishing in the Twenty-First Century. Miller lives in Denver with his wife and two children and teaches at the University of Colorado Denver. He co-curates the Unsung Masters Series and edits Copper Nickel.
Katia Bachko, Senior Editor at Harper's Magazine.https://harpers.org/, http://katiabachko.com/
Bachko is a writer and editor in New York City. Her work has appeared in The New Yorker, The New York Times, Outside magazine and the Columbia Journalism Review.
Eric Obenauf, Editorial Director/Publicity for Two Dollar Radio (Columbus, OH)
Eric founded Two Dollar Radio with his wife, Eliza, and brother, Brian. His writing has appeared in The Brooklyn Rail, The Millions, Los Angeles Review of Books, The Rumpus, Columbus Alive, and on The Billfold. In 2008, at the age of 26, Eric and Eliza were included in Publishers Weekly's '50 Under 40' list. He enjoys playing competitive basketball on the weekends.
---
Editors Panel 2016
Editors Panel 2016 was held on Thursday, November 10 at 4:00pm in 311 Denney Hall. Featured editors were Amelia Atlas, John Knight, and Caryl Pagel.
Amelia (Molly) Atlas is literary agent at ICM Partners. She started her career in publishing as an assistant at ICM and, after stints as a Berlin-based freelance book critic and as a senior publicist at Harvard University Press, she returned to ICM as an agent in 2012. Her list has a focus on literary fiction and narrative nonfiction, particularly history, current affairs, biography, science, and cultural criticism. Her recent and forthcoming titles include: Youngblood by Matt Gallagher, Hold Still by Lynn Steger Strong, Inherited Disorders by Adam Ehrlich Sachs, To Be a Machine by Mark O'Connell, and Dead Letters by Caite Dolan-Leach.
John Knight is an acquiring editor at Farrar, Straus and Giroux. Before coming to New York, he worked in San Francisco at McSweeney's and was the editor in chief of a long-form journalism magazine. At FSG he publishes both paperback originals and hardcover books of literary fiction and narrative nonfiction with a focus on cultural criticism, American history, nature, modern art, and biography. Recent titles include debut novels What Belongs to You by Garth Greenwell, which the New York Times calls "a rich, important debut," and Cannibals in Love by Mike Roberts, as well as Shakespeare in Swahililand by Edward Wilson-Lee, Eye of the Sixties by Judith Stein, and Void Star by Zachary Mason.
Caryl Pagel is the co-founder and Editress in Chief of Rescue Press, which describes itself as "an independent publisher of chaotic and investigative work." Pagel is also a poetry editor at jubilat, and the author of two collections of poetry, Twice Told (H_NG M_N Books) and Experiments I Should Like Tried at My Own Death (Factory Hollow Press). She is an Assistant Professor of English at Cleveland State University and the Director of the Cleveland State University Poetry Center, which has recently published titles such as A Bestiary by Lily Hoang and Residuum by Martin Rock. She also teaches graduate poetry and nonfiction classes in the NEOMFA Program in Eastern Ohio.
---
Editors Panel 2015
Editors Panel 2015 was held on December 3rd from 12:40pm--3:40pm in Denney 311, and featured panelists Dan Kois, culture editor of Slate; David Baker, poetry editor of Kenyon Review, and Sarah Bowlin, senior editor at Henry Holt & Company.
Editors Panel 2013
The Editors Panel was held Saturday, November 9 from 3:00-5:00pm in Thompson Library, Room 165.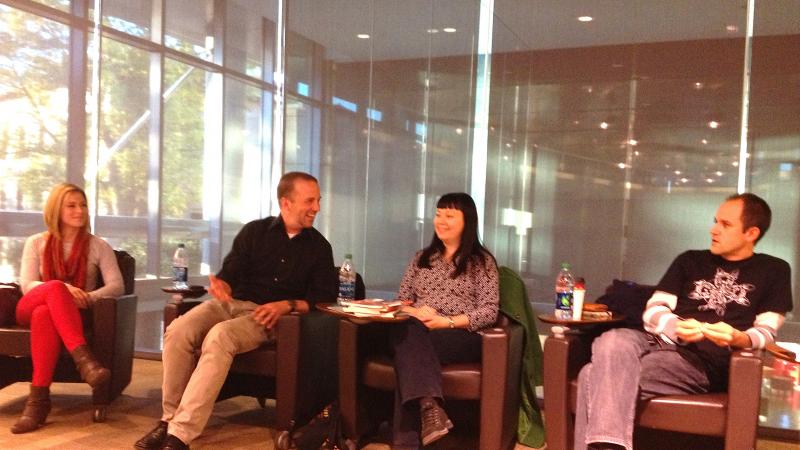 From left to right: Kate Shipley, 2013-2014 Writers Guild President; Matthew Vollmer, fiction writer and Editor of the University of Michigan Press Fiction Series; Mary Biddinger, poet and founder/editor of Barn Owl Review; and Eric Obenauf, Editor in Chief and co-founder of Two Dollar Radio, an independent publisher of literary fiction.
---
Writers Harvest
This fundraiser features food, spirits, live music and raffle prizes to benefit the Mid-Ohio Food Bank. In 2012-13, this event raised $672 and brought in 383 pounds of food for the needy in Columbus. Please consider volunteering for one of the planning positions or committees: performer scheduler, book bundle collector, canned food drive organizer, potluck organizer, publicity, Food Promise Auction organizer ("I'll cook you a meal" deal), raffle and gift certificates chair, or MC coordinator.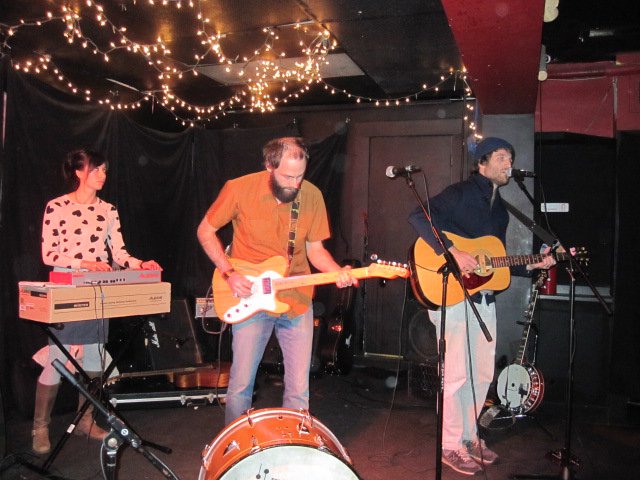 ---
Epilog
Epilog is an annual public performance which showcases creative work by third-year students in the MFA Program in Creative Writing. Free and open to all Ohio State University students, staff, and faculty, as well as the greater Columbus community, Epilog is an opportunity for the public to discover the prose and poetry that is being created by current MFA students. Following brief introductions by creative writing faculty, participating students give readings of their poetry, essays, and stories in a formal, gala-like atmosphere. Chapbooks including selections from each of the presenting students will be available at the event. The event has been wholly sponsored and organized by Writers Guild, the MFA student organization, for the past 16 years.
Epilog presenters in the Ohio Union, 2017. (Photo by Maggie Cipriano.)