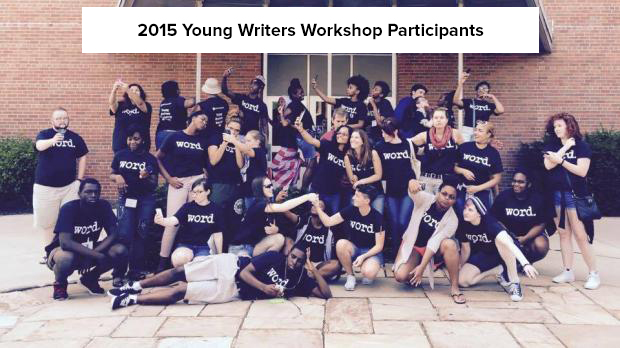 What is the Young Writers Workshop?
The Young Writers Workshop (YWW) is a week-long summer program for high school students in Columbus City Schools, charter schools in the City of Columbus, South-Western City Schools, and Reynoldsburg City Schools. Each year, the OSU creative writing faculty choose 30 students from the application pool to come live on campus and study writing with writers from around the country, including current students in and alumni of the Department of English's MFA Program in Creative Writing. Students are selected based on the promise of their writing—we don't ask for grades or letters of recommendation, just a statement of intent and writing samples. The program is entirely funded by a generous donor, and all participating students receive full scholarships.
What does the workshop accomplish?
YWW gives teenage writers in Columbus the extraordinary opportunity to have an intensive, in-residence creative writing experience; to live on a college campus (many of our writers have never set foot on a college campus); and to be taught by college professors and accomplished graduate students, all of whom are publishing their own creative writing. In other words, YWW is a unique educational experience that doesn't exist for these students in their schools. The program allows participants to meet and form long-term bonds with other writers of their own age and to receive mentoring from the YWW faculty long after the program ends. YWW also prepares students for college and offers them a glimpse into their futures.
Who does the workshop serve?
We offer this program to schools with populations that have little access to creative writing coursework and for whom this sort of program would almost certainly be out of reach financially. Ours is the only such program that offers full financial aid for all admitted writers. Also served are our MFA students. YWW gives these graduate students the opportunity to work with public high school students (which our grad students tell us is life-changing) and to be mentored by MFA alumni. At the same time that our MFA graduate students are working with the kids and living alongside them for a week in the dorms, our MFA alumni are helping the MFA students to plan the week's instruction.
What is a typical day like for a YWW participant?
Writers start their day early with breakfast at 8:45 AM. After that, it's a terrifically busy day: poetry lessons until 11:00 AM, fiction lessons until lunch at 12:30 PM, and students have combined lunch and writing lab time through the afternoon. It's right back to poetry writing after writing lab, until dinner at 6:30 PM. For the rest of the evening, students interact with their professors, guest speakers, and MFA students through performative readings, special events, and additional writing time. Lights out is set for 11:00 PM.
What makes YWW meaningful for participants?
MFA graduate student and YWW instructor Angela So recalls her favorite memory from YWW 2015, which underscores the value of YWW for the program's high school participants:
"There was a student who was shy and nervous the first evening, so I really wanted to make sure she was okay during the week. A major obstacle for her was reading her work out loud. She didn't think she could do it but after some encouragement, she read in front of the other students for the open mic night. Her voice was a little shaky, but she got through the reading. So, it was such a pleasure to see her read at the capstone dinner, in front of her classmates, parents, and instructors, and to have her voice more confident. I won't forget the pleasure that crossed her face when she reached a humorous part of her essay and the audience laughed. This moment sticks with me, not just because she had such growth in a week, but because she is an example of how fearless the campers are. That's the biggest takeaway I took from the camp. Don't be afraid to write and share your voice. They reminded me of the joy of writing."
How do I apply, or help my student apply, to YWW for this coming summer?
If you are a writer, currently in 10th or 11th grade, attending Columbus City Schools, a charter school in the City of Columbus, South-Western City Schools, or Reynoldsburg City Schools, and are interested in applying for this coming summer's YWW program, you can find the application here. You can also contact MaryKatherine Ramsey, YWW Program Director, at ramsey.240@osu.edu.