Required Materials | Transfer Credit | References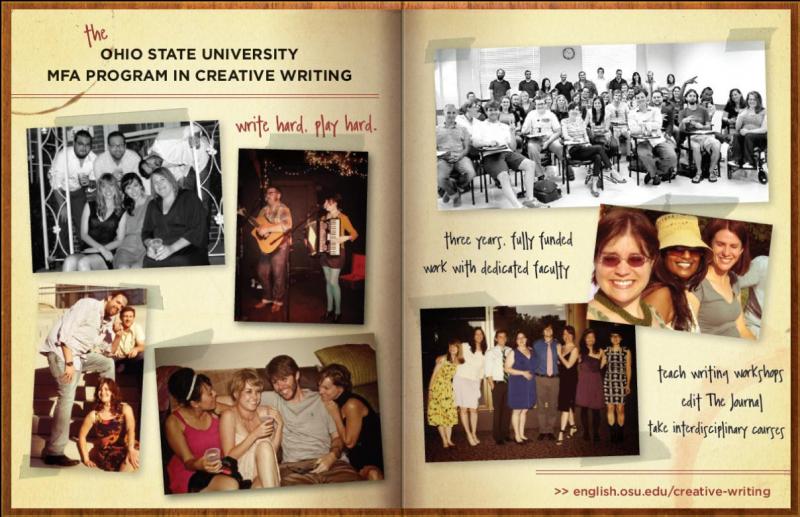 Applications for Fall 2019 are now closed.
The application to start in Fall 2020 will be available in October 2019.
An MFA applicant's undergraduate major may be in any discipline as long as he or she has completed 27 semester hours (40 quarter hours) of work in English or creative writing or a related field (any area of the humanities, arts, foreign languages, journalism, communications, etc.). A GPA of at least 3.2 overall is preferred.* Coursework in a foreign language is not required for admission. In certain cases, students may be required to take additional courses in literary studies, depending on their undergraduate degrees. If you have already earned an MFA in creative writing, or are in the process of completing an MFA program in creative writing, you are not eligible for admission to our program. As of June 2015, the GRE is no longer required as part of the application.*

The writing sample is the most important part of your application: it should demonstrate an ability to produce work of high quality and should consist of 15 to 25 pages of poetry, or 20 to 40 double-spaced pages of fiction or creative nonfiction. Please note that admission is to a single genre, so that applicants should choose carefully the genre in which they wish to be considered. (However, all MFA students at OSU are encouraged to take workshops outside their "home" genres, so successful applicants will have ample opportunity to explore multiple genres.)

Since teaching first-year writing is among the many opportunities and responsibilities of our MFA students--and because all MFA students will have the opportunity to teach introductory creative writing classes in their genres, and may have the chance to teach more advanced classes as well--each applicant may include a statement that addresses her or his interest, background, and abilities in teaching. This statement may be incorporated within the personal statement, and should not be a separate document.

Admission to the MFA Program is made for Autumn Semester only. The deadline is December 7, 2018. (International students should apply by November 30, 2018.)

Please send the following items through the application with the OSU Graduate Admissions Office:
the completed application form and fee - submit online at the Graduate Admissions website. (Go to the Find Your Program tab, scroll to English, select Master of Fine Arts);

three (3) letters of recommendation (see note below): Please have your recommenders submit letters electronically using the link that will be provided when you select this option in the online application. While you must submit your application before on on the deadline, please note that we do allow about a 10 day grace period after the deadline to receive letters of recommendation.

one official transcript of each academic record (transfer credit from another institution appearing on the same transcript is not sufficient): Upload with your application to the Graduate Admissions website one scanned copy of official transcript for each institution attended; if you are accepted to the program, you will be asked to send a hard copy of your official transcript to Graduate Admissions. (Please note that advising reports and/or web-based grade reports are NOT sufficient. While we do not require an official transcript at this stage, we do require a copy of an official transcript.). Important note: If you do choose to mail hard copies of official transcripts, DO NOT SEND THEM TO THE CREATIVE WRITING PROGRAM. This will result in them being considered unofficial. Hard copies must be handled according to the instructions on this page: http://gpadmissions.osu.edu/apply/transcripts.html.

a personal statement (1-2 single-spaced pages) that describes your background as a writer and your purpose in pursuing this degree; this statement should address your writing interests and can also briefly describe your interest and/or experience in teaching;

curriculum vitae/resume (no more than two pages);

creative writing sample (15 to 25 pages of poetry, or 20 to 40 double-spaced pages of prose, or a combination of poetry, fiction, or non-fiction prose of no more than 40 pages in all). Important note: While the online application allows for the upload of a critical writing sample, admission to the MFA program does NOT require that you submit a critical writing sample. You are free to skip that upload.


GRE General Test scores are no longer required as part of the application.

However, if you have taken the GRE and would like to submit your scores, please use GRE Institution code 1592 to ensure that your scores will be sent to both Admissions and to the Department of English. (GRE scores are also not required for fellowship consideration in this creative Master's program.)
Please Note: Do not include your Social Security Number on any of your application materials. If your SSN is on your transcript(s), please redact if possible. (If this is not possible, you may still submit the transcript.)
For questions, the Creative Writing Program can be reached at 614-292-4363 or via email at cwMFA@osu.edu.
---
Transfer Credit
Students may receive transfer credit for graduate courses taken at other accredited universities if the Director of Graduate Studies deems those courses appropriate to our program.
MFA students entering the program may apply up to 10 hours of transfer credit towards their degrees. Students wishing to request transfer credit should complete the "Request for Transfer of Graduate Credit" form available in the Graduate School and the Graduate Studies Office. In addition, all graduate students may transfer 10 hours of graduate work done at Ohio State as a non-degree graduate student.
A note about references:
Our preference is that your recommenders be faculty who have taught you or writers familiar with your work, as these are likely to be most useful to us. But we understand that for those who have been out of school for some time, and those who have not participated in writing workshops or conferences, this may be impossible. You will not be penalized for this, but we do ask that you choose your recommenders carefully from among the options you do have--those who have had the opportunity to work with you or supervise your work, for example. We can accept letters from Interfolio; however, they must come in through our online application system. Instructions for requesting this from Interfolio can be found on their website under Confidential Letter Uploads to Online Application Systems.
*A note about GPA and the GRE:
While our program recognizes that a low GPA does not necessary correlate to the quality of one's creative writing work, Ohio State's Graduate School requires a GPA of at least 3.0 for admittance. In rare cases, this requirement can be waived upon the submission of a petition to the Graduate School by the MFA faculty admissions committee. If, however, one's GPA is below 3.0, the Graduate School will require a GRE score to strengthen the application and demonstrate the potential for academic success.