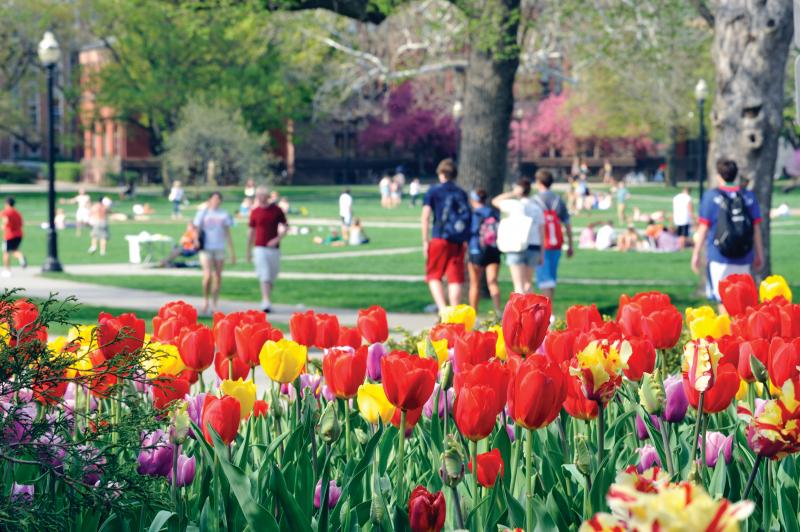 Click here for funding information (including semester-long fellowships and travel grants) for current graduate students.
The Department makes every attempt possible to provide funding to students who are admitted to the PhD program.  The number of years of funding is based on whether the student is admitted with a bachelor's or master's degree, and is renewed on a yearly basis as long as the student maintains satisfactory academic progress and as long as budget funding remains stable.
Departmental funding is most often in the form of a Graduate Teaching Associateship (GTA), for which the student receives a stipend of at least $15,588 for the 9-month academic year, in addition to a tuition authorization for general, instructional, and non-resident fees.  Students are responsible for the COTA bus, student activity, Student Union, and Recreation Center fees.  Students on GTA appointments teach one course per term during the regular academic year.
Given Columbus's low cost of living, Department of English and Graduate School stipends go far. Students are able to live on their own, if they choose to, and former and current students report enjoying a high standard of living throughout their graduate programs. Megan Reid, a former master's student and current assistant editor at Simon and Schuster, reports "the fact that my first ever apartment was a giant, sunny one-bedroom with built-in bookshelves, a claw-foot tub, and a back porch—and that I could AFFORD it on a grad school salary—is still something I rub in to New York friends' faces." 
---
Graduate School Fellowships for Incoming Students (by Nomination)
For more detailed information, see the Graduate School.
In addition the funding provided by the Department of English, the Graduate School awards University and Enrichment Fellowships on a competitive basis to students who are new to graduate education at OSU. The English Department's admissions committee submits nominations to the Graduate School's competition, and a selection committee reviewing nominations from across all graduate programs in the University awards the fellowships. 
All Graduate School fellowships provide a monthly stipend, academic tuition and fees, and a subsidy of 85% of the student health insurance premiums. These fellowships are nonrenewable and may not be deferred.
Students are nominated for fellowship consideration by their prospective graduate programs in early February, prior to starting their graduate studies. Students may not apply directly for fellowship support. Each graduate program has a limited number of students who may be nominated for fellowship consideration. 

University and Enrichment Fellowship Information 
SROP Graduate School Fellowship Program
For more detailed information, see the Graduate School.
The Summer Research Opportunities Program (SROP) is a collaboration between the Graduate School and faculty has led to the identification and development of highly qualified prospective students and is a significant investment.
In an effort to support the recruitment and retention of this talented group of students to an Ohio State doctoral program, the Graduate School initiated the SROP Graduate School Fellowship program. The SROP Graduate School Fellowship Program is designed as a partnership between the Graduate School and the admitting graduate program.
Up to 10 SROP Graduate School Fellowships are awarded annually to former SROP students enrolling, for the first-time, in a graduate program at Ohio State.

SROP Fellowship Information