OSU MFA Creative Writers
Alumni Bookfair & Festival
September 14-16, 2012
 
Join us for the first OSU MFA Alumni Bookfair & Festival, sponsored by the MFA Program in Creative Writing, the Office of the President, and the Ohio State University Libraries.  All events are free and open to the public.


FEATURED GUESTS
We are proud to "bring home" seven OSU writers with new books this year:

Christopher Coake ('04), You Came Back   
Michael Kardos ('03), The Three-Day Affair 
Joe Oestreich ('07), Hitless Wonder: A Life in Minor League Rock and Roll 
Catherine Pierce ('03), The Girls of Peculiar 
Letitia Trent ('07), One Perfect Bird 
Claire Vaye Watkins ('11), Battleborn
Betsy Wheeler ('05), Loud Dreaming in a Quiet Room

We are also happy to be bringing home to OSU several other alumni with recent and forthcoming books who will participate on panels: Donald Ray Pollock's ('09) The Devil All the Time (2011) is newly out in paperback; his first book, Knockemstiff, won the PEN/Robert Bingham Prize for a first work of fiction. Natalie Shapero ('08) is the author of the forthcoming No Object. She is the 2012-2014 Kenyon Review Fellow at Kenyon College.  Ida Stewart ('08) is the author of Gloss, winner of the 2011 Perugia Press Prize for a first or second book of poetry by a woman. She is a PhD student in creative writing at The University of Georgia and co-editor of Unsplendid.


SCHEDULE OF EVENTS

Friday, September 14

2:30 PM - Bookfair & Festival opens - Welcome from Michelle Herman, Director of Creative Writing - Thompson Library, room 460

3:00-4:00 pm - OSU nonfiction MFA student ('13) Kristen Grayewski interviews Joe Oestrich. Audience Q & A to follow - Thompson Library, room 150b

4:30-5:30 pm - Discussion with poet/editor/small press publisher Betsy Wheeler about small-press publishing and bookmaking, starting up a micro press, elements of simple book design, the relationship between the writing process and the artistic process - Thompson Library, room 150b 

6:30 PM - Readings/signings at OSU Bookstore/Barnes and Noble: Betsy Wheeler, Letitia Trent, Joe Oestrich

Saturday, September 15

11:30 AM - 1:30 PM - Panel offering frank, candid advice about publishing a first book of prose: Claire Vaye Watkins, Michael Kardos, Christopher Coake, Joe Oestrich, Donald Ray Pollock (Nick White, OSU fiction MFA '13, moderates)- Thompson Library, room 165

11:30AM - 1:00 PM - Panel on publishing a first book of poetry: Letitia Trent, Betsy Wheeler, Catherine Pierce, Ida Stewart (Natalie Shapero moderates) - Thompson Library, room 202 

2:00 - 3:30 PM - Panel on finding (and keeping) a tenure-track job: Claire Vaye Watkins, Michael Kardos, Catherine Pierce, Joe Oestrich, Christopher Coake (Silas Hansen, OSU nonfiction MFA '13, moderates) - Thompson Library, room 165 

4:00 -5:30 PM - Panel on chapbooks and online publishing for poets: Betsy Wheeler and Letitia Trent (Allison Davis, OSU MFA poetry '12, moderates) - Thompson Library, room 202 

6:00 PM - Readings/signings at OSU Bookstore/Barnes and Noble: Michael Kardos and Catherine Pierce

9:00 PM - Gala featuring Heatwave, Watershed, and an all-star writer (& ringers) band - Ace of Cups

Sunday, September 16

12:00 PM - Readings/signings at OSU Bookstore/Barnes and Noble: Christopher Coake and Claire Vaye Watkins

2:00 - 3:30 PM - Panel on the literary genre (and the literary versus genre) novel with Michael Kardos and Christopher Coake - (Ali Salerno, OSU fiction MFA '11, moderates) Thompson Library, room 165

4:00 - 5:30 PM - Panel on writing a novel after stories—the challenges and craft issues—by novelists whose first books were collections of stories: Michael Kardos, Christopher Coake, and Donald Ray Pollock - (Claire Watkins moderates) Thompson Library, room 460

4:00 - 5:00 PM - Panel/discussion on the relationship between poetry and nonfiction, Catherine Pierce, Joe Oestrich, and Pablo Tanguay - (Nicole Butler, OSU nonfiction MFA '13, moderates) Thompson Library, room 202
5:30 - 6:00 PM - Bookfair concludes, Thompson Library, room 460
*** Please be advised that there is an OSU football home game on Saturday, September 15. Plan accordingly--that is, leave plenty of time for travel and don't attempt to bring a car onto campus.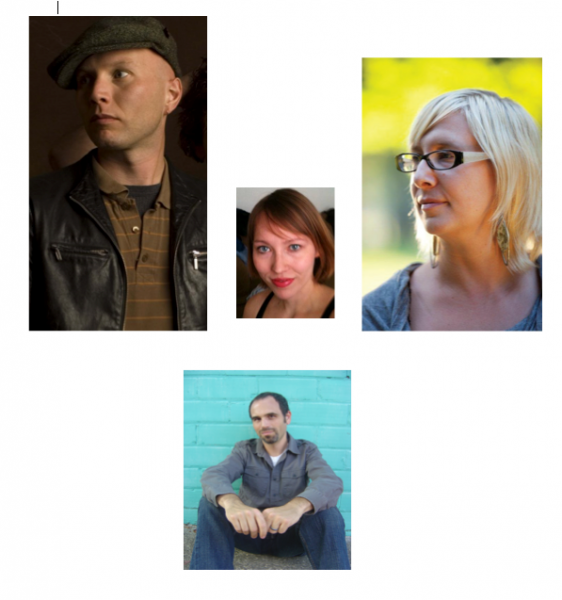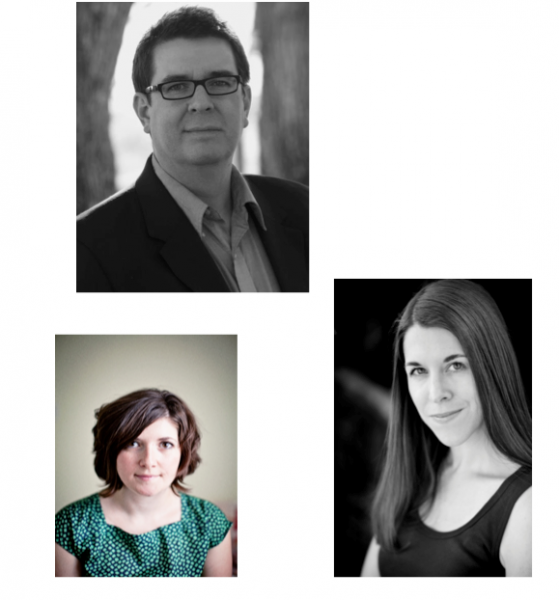 Christopher Coake (You Came Back) is also the author of the collection of short stories We're In Trouble, which won the PEN/Robert Bingham Fellowship. In addition, Coake was listed among "Granta's Best of Young American Novelists" in 2007. His stories have been published in many literary journals, and anthologized in Best American Mystery Stories and The Best American Noir of the Century.  A native Hoosier, he and his wife Stephanie Lauer live in Reno, where he is a professor of English at the University of Nevada.

Michael Kardos is the author of the award-winning story collection One Last Good Time as well as the novel The Three-Day Affair, the publication of which--in September 2012--we will be celebrating at the bookfair. His short stories have appeared in The Southern Review, Crazyhorse, Prairie Schooner, Pleiades, PRISM international, and many other magazines and anthologies, and were cited as notable stories in the 2009 and 2010 editions of Best American Short Stories. Michael grew up on the Jersey Shore, received a degree in music from Princeton University, and played the drums professionally for years before earning his MFA at OSU and then going on to a PhD from the University of Missouri. He lives in Starkville, Mississippi, where he is an assistant professor of English and co-director of the creative writing program at Mississippi State University.

Joe Oestreich's memoir, Hitless Wonder: A Life in Minor League Rock and Roll, chronicles the twenty-plus years he has played in the Columbus-based band, Watershed. He is an Assistant Professor of English at Coastal Carolina University in Conway, SC, where he co-edits Waccamaw. His work has appeared in Esquire, Sports Illustrated, Ninth Letter, Fourth Genre, and has been shortlisted several times for Houghton Mifflin's Best American Series.

Catherine Pierce (The Girls of Peculiar) is also the author of Famous Last Words (winner of the 2008 Saturnalia Books Poetry Prize). Her chapbook Animals of Habit (2004) won the Wick Chapbook Competition. Her poems have appeared in The Best American Poetry, Slate, Boston Review, Ploughshares, FIELD, and elsewhere. She lives in Starkville, Mississippi, where she co-directs the creative writing program at Mississippi State University.

Letitia Trent's first full-length poetry collection, One Perfect Bird, follows publications in Denver Quarterly, The Black Warrior Review, Fence, Folio, Diode, Blazevox, and many other journals. Her chapbooks are Splice (Blue Hour Press) and The Medical Diaries (Scantily Clad Press). Trent was the 2010 winner of the OSU Alumni Flash Writing Award from The Journal and has been awarded fellowships from The Vermont Studio Center and the MacDowell Colony.

Claire Vaye Watkins (Battleborn) was born in Bishop, California in 1984.  She was raised in the Mojave Desert, first in Tecopa, California and then across the state line in Pahrump, Nevada.  Her stories and essays have appeared in Granta, One Story, The Paris Review, Ploughshares, Glimmer Train, and elsewhere. She teaches creative writing at Bucknell University and the Sewanee Young Writers' Conference and is the co-director, with Derek Palacio, of the Mojave School, a non-profit creative writing camp for rural Nevadans.

Betsy Wheeler, the author of the poetry collection Loud Dreaming in a Quiet Room, is the editor of Pilot Books, and Managing Director of the Juniper Summer Writing Institute & Institute for Young Writers. She is also the author of Start Here, a poetry chapbook, and her poems have appeared in notnostrums, Bat City Review, Forklift Ohio, The Journal, and elsewhere. From 2005-2007, she served as the Stadler Fellow at Bucknell University.