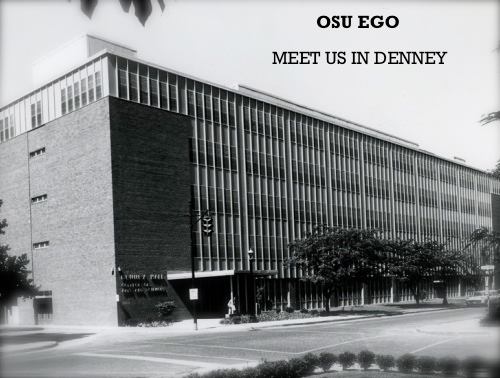 The English Graduate Organization (EGO) is a professional development, networking, and advocacy group for all graduate students in the English department. EGO allows graduate students to have a tangible impact on departmental decisions and policies. Elected to specific committees, EGO officers coordinate academic and social events, serve on faculty committees, and act as liaisons between graduate students and administration, providing a crucial voice in discussions that affect students' day-to-day lives and future careers. In addition to promoting the interests of a dynamic graduate student body, the English Graduate Organization offers a valuable opportunity for its officers to prepare for service responsibilities in a profession that thrives on self-governance. EGO officers can vote at monthly English Department Council (EDC) meetings, which all graduate students can attend.

Contact the English Graduate Organization at ego.osu@gmail.com.
Representatives for 2016-17:
---
Steering Committee
Indya Jackson, President
Ebony Bailey, Executive Committee Representative
Michael Blancato, Treasurer
Jacinta Yanders, Outreach and Communication Coordinator
The Steering Committee acts as EGO's main point of contact, coordinates communications with other committees, and consults directly with the Director of Graduate Studies. Each semester the Steering Committee hosts the EGO Colloquium, which features ongoing research by graduate students in the department. Additionally, the Steering Committee hosts the annual EGO Symposium, which showcases leading research by both faculty and graduate students and coincides with the open house for prospective graduate students during the spring semester. In March, the Steering Committee coordinates elections for all EGO committees for the next academic year. In April, it selects the Graduate Teacher of the Year and presents the award at the department's end-of-year ceremony. Finally, the Steering Committee hosts other professional development and social events at its discretion. In addition to the roles of president and treasurer, one Steering Committee officer serves on the department's Executive Committee, which advises the Department Chair, and another officer serves as outreach coordinator, managing EGO's public relations, social media presence, and event documentation.
---
Graduate Program & Policy Committee
Gavin Johnson, Member
Rocio Prado, Member
Liz Steinway, Member
The Program and Policy Committee consists of the Director of Graduate Studies, faculty representatives, and three graduate student representatives. Representatives are responsible for attending monthly meetings in which the committee considers and votes on policies related to the English Department's graduate program. Graduate student representatives do not participate in decisions involving specific graduate students, programs of study, or graduate student admissions.
---
Undergraduate Studies Committee
The Undergraduate Studies Committee is chaired by the Director of Undergraduate Studies, and includes faculty, lecturer, and undergraduate representatives, as well as one graduate student representative. The committee is responsible for decisions related to the undergraduate major in English.
---
MFA Writers' Guild
President: Samantha Iacovetto
Treasurer: Jackie Hedeman
Secretary: Sonya Bilocerkowycz
Media Rep: Sonya Bilocerkowycz
Community Workshops Coordinators: Sonya Bilocerkowycz and Cade Leebron
V.P. of Editors Panel: Suzannah Showler and Noelle O'Reilly
V.P. of Writers' Harvest: Samantha Iacovetto and Cade Leebron
V.P. of StuFac: Suzannah Showler and Noelle O'Reilly
V.P. of MoTo: Jackie Hedeman and Cade Leebron
V.P. of Epilog: Jake Bauer, Daniel O'Brien, and David Yee
Each Ohio State University MFA candidate is a member of Writers' Guild, an organization dedicated to enhancing student life and the university community through fundraisers, social activities, industry panels and recognition of graduating classmates. Its board serves as a liaison between graduate students and faculty to discuss devlopments and communicate news.