Richard D. Altick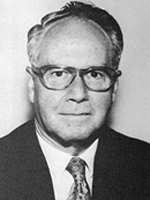 The only faculty member in the Department to be honored with the title of Regents Professor, Professor Altick published a number of books of wide interest and of great influence, including The Scholar Adventurers (1950), The Art of Literary Research (1963), and A Preface to Critical Reading (1949 and 1969). He was an eminent scholar of Victorian studies: among his many other books, to mention only a few, were The English Common Reader: A Social History of the Mass Reading Public 1800-1900 (1957), Browning's Roman Murder Story: A Reading of The Ring & The Book (1968; with James Loucks), Lives and Letters: A History of Literary Biography in England and America (1969), Victorian Studies in Scarlet: Murders and Manners in the Age of Victoria (1970), The Shows of London: A Panoramic History of Exhibitions, 1699-1862 (1978), Victorian People and Ideas: A Companion for the Modern Reader of Victorian Literature (1980), and Paintings from Books: Art and Literature in Britain 1760-1900 (1985). He also frequently wrote essay-reviews for the Times Literary Supplement and the London Review of Books.
Professor Altick was a faculty member at Ohio State from 1945 until his retirement in 1982. He died February 7, 2008.Read an obituary of Professor Altick that appeared in the London Telegraph, April 2008.
---
Alan K. Brown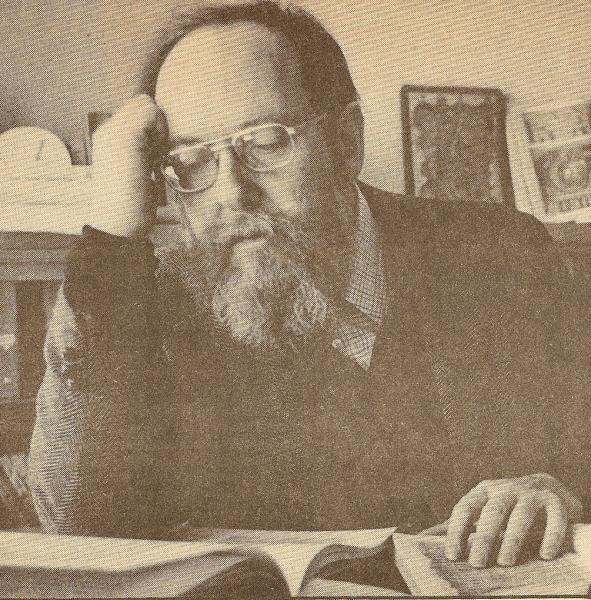 On September 17, 2009, The Center for Medieval and Renaissance Studies lost a distinguished affiliate with the death of Alan Brown, Emeritus Professor of Old English and Medieval Literature.
Alan Kelsey Brown was a faculty member in the English Department from 1970 until his retirement in 1997. He received his Ph.D. from Stanford University in 1969 with a concentration in Old English Language and Literature. After teaching briefly at The University of Arizona, he was hired by Ohio State to teach classes in Old English as well as the History of the English Language. Even after his retirement, Alan continued to present papers at conferences and to pursue his scholarship. A frequent visitor to OSU Library's Rare Book Room in the last years of his life, Alan was an inspiration to those of us who hope to continue our serious work even after we are released from the pedagogical duties that define our daily lives.
More of Professor Brown's obituary and memorials [pdf]...
---
Jim Buckley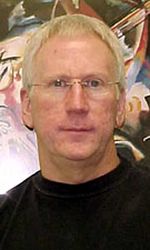 James Buckley, Professor of English at the Mansfield Campus, and graduate of the OSU English PhD program (1993), died on Saturday, Sept. 6, 2008. Professor Buckley had taught American literature, literary criticism, theory, and film at Ohio State's Mansfield campus since 1995.
Jim was employed as a stockbroker with Morgan Stanley Dean Witter in New York City and Columbus, Ohio before teaching at Iowa State University. In 1995 he moved to Mansfield, Ohio to teach at The Ohio State University in Mansfield, where he taught courses in early and 19th century American literature, literary theory and criticism, and film.
He was the author of Desire, The Self, The Social Critic, and articles on Herman Melville, Ernest Hemingway, Rebecca Harding Davis, Transcendentalism, and the pedagogy of teaching LGBT literature. At the time of his death he was working on a book-length examination of nineteenth-century women authors of sentimental and domestic fiction. In 2005 Jim Buckley received The Ohio State University, College of Humanities Diversity Enhancement Award, as well as an OSU Mid-Career/ Senior Faculty Teaching Enhancement Grant (2005-6)
Professor Jim Bickley's obituary in the Jamestown NY Post-Journal.
---
Robert Canzoneri
Robert W. Canzoneri, Emeritus Professor of Creative Writing, passed away on December 4, 2010. Professor Canzeroni was the author of several books of fiction, nonfiction, and poetry, and his work appeared in many anthologies; he was the first Director of the Creative Writing Program in this Department. Professor Canzoneri received his undergraduate degree at Mississippi College, his Masters at Ole Miss, and his PhD at Stanford University. During WWII, he was a decorated Naval Airman (tail gunner on a PB4Y-1) in the Pacific.
Two examples of his work [pdf], courtesy of Professor Andrew Hudgins of the Creative Writing program.
---
David Citino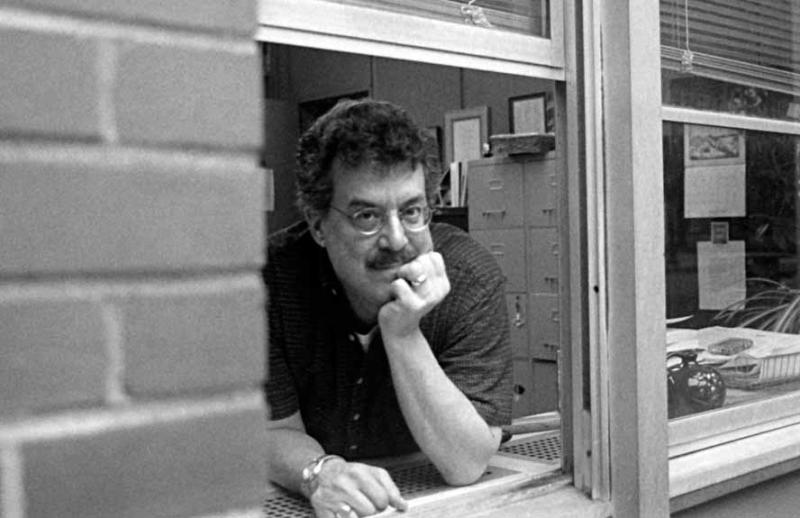 David Citino, who passed away in October 2006, grew up in Marion, Ohio, and was considered a true "Ohio poet." He was named Ohio State poet laureate in 2002, and wrote poems to mark special University events. He read a poem at the Memorial Service for Coach Woody Hayes, in the Ohio Stadium, for an audience of more than 30,000 people.
Poet and educator W.T. Pfefferle photographed and interviewed Citino in September 2003 in Denney Hall. The interview and a poem, "Through a Glass, Darkly," were featured in Pfefferle's book Poets on Place (Utah State University Press, 2005). The Department website is using his pictures of David Citino with W.T. Pfefferle's kind permission.
David Citino earned his MA and PhD from OSU, and served as Professor of English at the Marion campus for 11 years before coming to the Columbus campus in 1985. He was the author of twelve books of poetry, among them The Invention of Secrecy, The Book of Appassionata: Collected Poems, and his final volume, A History of Hands. He won numerous awards, including the Governor's Award and a Fellowship in Poetry from the National Endowment for the Arts, and he published his work in countless literary journals and anthologies...
David Citino leaves behind a legacy of poetry and generosity that won't be forgotten by those who knew him. "On the page, he makes me laugh, gasp, reflect and holler hooray, often in the same poem," said colleague Lee K. Abbott. "Beyond that, he leaves behind hundreds and hundreds of students who know more than most about 'the willed word." The University established the David Citino Memorial Fund to continue David's legacy. It will support undergraduate and graduate scholarships and travel abroad experiences that enhance and broaden creative writing.
More pictures [pdf] from W.T. Pfefferle's interview session, and memorial articles.
---
Lee Sheridan Cox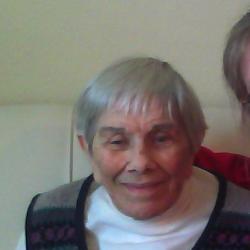 Professor Lee Sheridan Cox, one of the first female full professors at The Ohio State University, passed away on March 17, 2013, in Crawfordsville, Indiana. Professor Cox, a scholar of Shakespeare and Milton, retired from the University in 1980.
Professor Cox was the author of several notable books and articles including "A Question of Order in Canterbury Tales," which appeared in 1967, in the Chaucer Review; and Figurative Design in Hamlet: The Significance of the Dumb Show, published in 1973 by The Ohio State University Press. She is remembered by her contemporary colleague, Emeritus Professor Arnie Shapiro, as "a specialist in Shakespeare, Milton, and seventeenth century poetry. … [and] a pioneer in the English Department, one of the first female full professors."
---
Genevieve Critel, PhD
In May, 2012, the Department of English experienced a great loss at the unexpected death of Genevieve Critel, a graduate student who had recently been awarded a PhD in our Rhetoric, Composition, and Literacy program.
People knew Genevieve as a skilled and innovative teacher, a keenly perceptive scholar and incisive researcher, and a most generous friend and colleague. She had completed her Ph.D., her dissertation entitled, "Investigating The Rhetoric of Student Participation: Uncovering and Historicizing Commonplaces in Composition Studies." On her committee were Professors Cynthia L. Selfe (Chair), Scott Lloyd DeWitt, Beverly Moss, and Wendy Hesford.
---
Professor John Gabel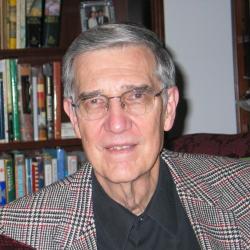 John Gabel began his journey at The Ohio State University as a graduate student, earning a PhD in English in 1961. He then returned to OSU and became Chair of English, guiding the Department through some of its most difficult times in the 1970's. He later served as Dean of the Graduate School.

Gabel is noted particularly for his work in Renaissance studies as well as his influential publications on the Bible as literature. He was known for his good humor and inclusive nature. He always served where needed and was an active member of various OSU organizations and associations. He served as both mentor and friend to many of the faculty and students. Even after his time with the English Department he remained invested in the English Department and OSU community and his loss will be keenly felt by all he touched.
---
Albert J. Kuhn

Emeritus Professor Albert J. Kuhn, former Chair of the english Department, passed away on Monday, March 26, 2012
Murray Beja said of Professor Kuhn that he was "a fine colleague and mentor, and an extraordinary citizen of the University. ... He was Chair of the Department in the mid to late 60s and into the early 70s—including the Spring of 1970, when the entire University shut down after the Kent State shootings. His understanding leadership at that time was inspiring. As a sign of the respect and admiration of the entire campus, he went from being Chair directly to the office of the Provost in 1971, with no administrative posts between. In that role too he was outspoken yet diplomatic, both courageous and judicious."
---
Kitty O. Locker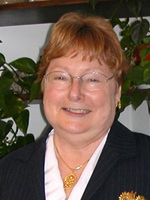 Professor Kitty Locker was an English Professor at Ohio State University and the author of two widely used business communication textbooks, and the coauthor of three more. She was known as a caring mentor for both graduate students and junior faculty, a good citizen and colleague among her peers, and a role model for her students. During her distinguished career, she served as editor of the Journal of Business Communication and as a President of the Association for Business Communication. She received national awards for both her research and her teaching.
From the Book of Remembrance [pdf] for Kitty Locker.
---
Marlene Longenecker
Marlene Longenecker, Associate Professor Emerita, received her Ph.D. from the State University of New York at Buffalo, joining our department in 1972. She was an invaluable member of the teaching faculty for 37 years, serving three terms as Vice Chair of English and one as the first Director of the Center of Women's Studies (which later became a department). She also took a leave of absence in 1986 to take a job as Executive Assistant to Governor Richard Celeste (Democrat) of Ohio, her one job outside of academia. Her primary teaching and research interests were centered in British Romanticism and feminist theory. Marlene was a two-time winner of the Ohio State University Alumni Award for Distinguished Teaching and was twice named Graduate Teacher of the Year. After retiring, she served as our department scheduler, assisting in the complex transition of our schedule through semester conversion. Upon her first retirement in 2008, our Alumni Advisory Committee started the Marlene B. Longenecker English Faculty Award for Leadership and Teaching. Marlene passed away on December 25, 2014 after a valiant battle with acute myeloid leukemia.
---
Thomas Woodson
Tom Woodson was a long-time professor of 19th-century American literature specializing in Hawthorne and other writers. He served as president of the Nathaniel Hawthorne Society and as a general editor of the Centenary Edition of the Works of Nathaniel Hawthorne (OSU Press). Within that Centenary Edition, he was editor of The French and Italian Notebooks and several volumes of the letters as well as co-editor of The English Notebooks, 1856-1860. This work has been immensely influential. For example, in Tom's personnel file is a 1991 letter from Richard H. Brodhead, chair of English at Yale, stating that Tom's work on Hawthorne's French and Italian notebooks had been "indispensable--a real treasure-trove of fascinating lore"--to Brodhead's own editorial work on the Penguin edition of The Marble Faun.
In 1991, Tom was presented with The House of the Seven Gables Hawthorne Award, given by the House of Seven Gables Settlement Association, for his "outstanding contributions to Hawthorne studies and the establishment of definitive texts."
Tom served on a number of departmental committees and was chair of Promotion and Tenure from 1988-90. In addition, he was Chair of the Division of Comparative Studies from 1974-78. Tom received his B.A., M.A., and Ph.D. in English from Yale University. He died on August 17, 2014.
---
Christian Zacher
Christian Zacher was the author of Curiosity and Pilgrimage: The Literature of Discovery in Fourteenth-Century England, "Travel and Geographical Writings" in A Manual of the Writings in Middle English, and of essays and reviews on medieval literature; the co-editor of Critical Studies of Sir Gawain and the Green Knight and The Idea of Medieval Literature; and the co-eneral editor of Basic Readings in Chaucer and His Time.
---
---
[pdf] - Some links on this page are to Adobe .pdf files requiring the use of Adobe Reader. If you need these files in a more accessible format, please contact english.admin@osu.edu.